Often served as primo piatto, the course between antipasto and main, earthy and filling Italian soups are mainly made with seasonal vegetables and beans, which are occasionally added with cereals or bread. Reflecting a slightly loftier lifestyle, other soups include meat, cheeseor fish.
While fish soups, like brodetto, cacciucco orzuppa di pesce are obviously popular on the coast and are mostly made during summer, the majority of Italy's other soups tend to be enjoyed in the colder months. Here are 10 of the most popular and traditional Italian winter soups.
Minestra Maritata
Cooked across the region of which Naples is the capitol during winter, this soup owes its name – literally meaning 'married soup' – from the marriage of meat with vegetables. Wild foraged herbs and winter greens are crucial: savoy cabbage, "minestra" greens, borage, young wild endive, chicory, torzelle (a sort of miniature kale) and others are quickly boiled and then plunged into a rich skimmed bone broth added with pieces of beef, chicken and/or pork. According to area, minestra maritata can be served with lavish amounts of grated aged cheese.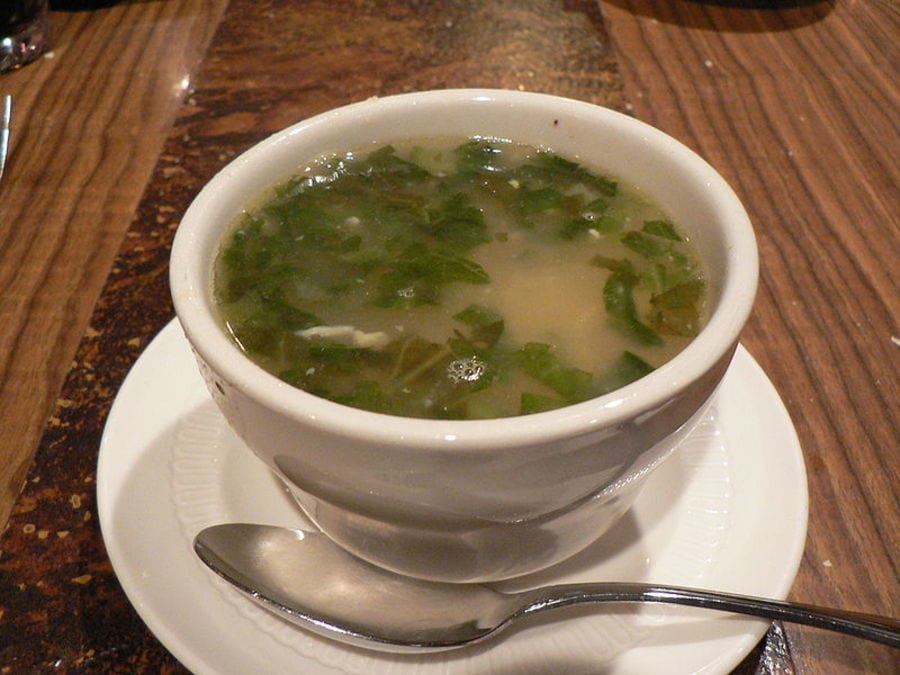 Ribollita
A Tuscan classic, ribollita is one of the tastiest examples of cucina di recupero, these arerecipes employing food surplus and leftovers. It originally made the most, since its birth in the middle Ages, of stale bread and whatever grew in the garden; nowadays the rich soup is a winter comfort food staple. Essential to ribollita are cannellini beans and cavolo nero, Italian lancinato kale. The soup owes its name ('boiled twice') from the fact that it is cooked two times. Vegetables and beans are initially boiled and left to rest overnight. The next day chunks of stale, unsalted Tuscan bread are added before cooking the soup again before being served with more toasted and garlic-rubbed bread and a thread of extra virgin olive oil.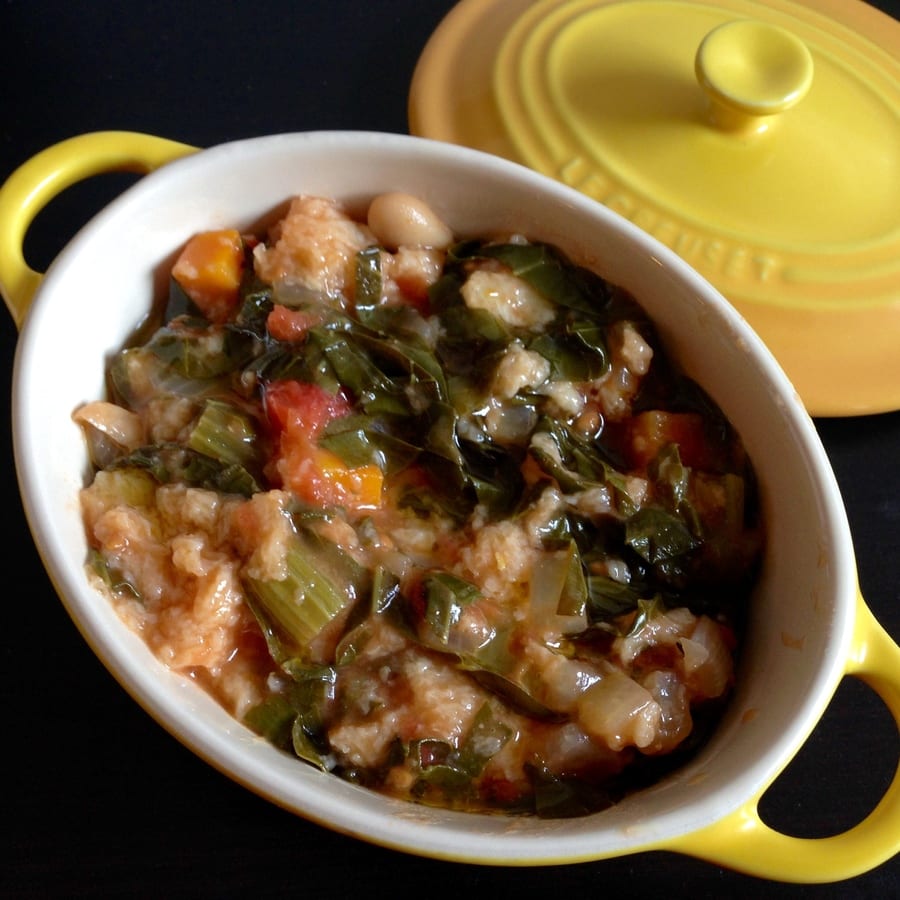 Stracciatella
The Italian egg-drop soup is a simple recipe native to Lazio, which is the region of which Rome is the capital. This easy recipe adds to the healing powers of chicken soup the energy and protein provided by beaten eggs mixed with grated Parmigiano, nutmeg and lemon zest, are poured in one slim stream into the eye of the whirlpool of boiling bone broth and stirred to obtain a shredded, fine texture.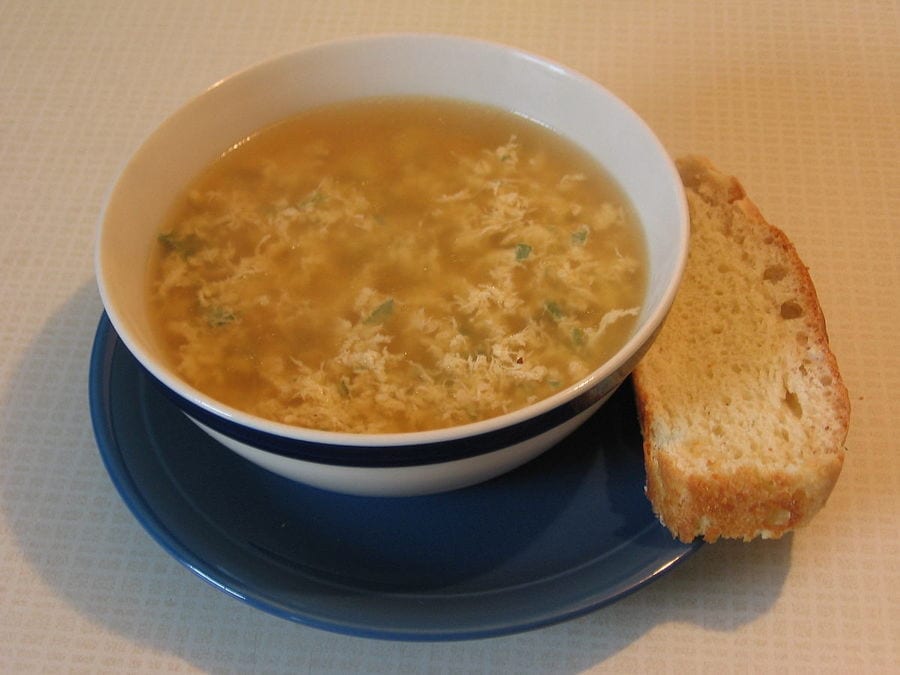 Broccoli e Arzilla
This peasant soup, made with the curious fractal geometry Romano broccoli, broken noodles and the very affordable skate fish (locally called arzilla) is a classic example of cucina povera, peasant cuisine that made use of food scraps. This dish was appreciated during Lent and on Fridays since it did not contain meat; it was also greatly affordable and filling, as it contained protein, starch and a local crop that grew abundant in the Lazio countryside outside of Rome.
Vellutata
When kids turn their nose up at minestrone, crafty homemakers simply blend the soup and serve it up calling it vellutata. Croutons, seeds, yogurt and other toppings beautify the trick and help pack the vitamin boost. Vellutata is Italian for "velvety" and this is precisely what the steaming bowls of vegetal stratagem are all about. Smooth, creamy spoonfuls of tasty stewed vegetables. Vellutata can also be made with roasted vegetables thinned down by broth or milk.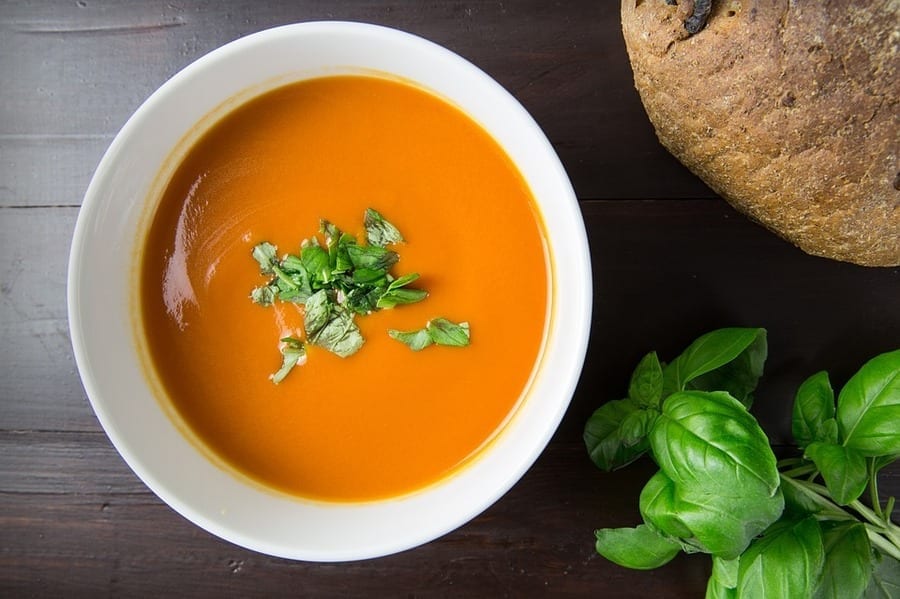 Passatelli in brodo
In Bologna, making passatelliis a serious business. The ancient tradition typical of the rural low-income areas where leftovers such as stale bread, cheese and eggs were used often to create tasty dishes, shines in this Emilia-Romagna preparation. The "pasta" part of the soup is made with equal parts breadcrumbs and grated Parmigiano, plus one egg per person. These ingredients are mixed into a thick golden dough, then "passed" through a special flat, pierced surface fitted with two sturdy handles. The resulting passatelli can be seasoned with nutmeg and lemon zest; and are then cooked in a rich bone broth.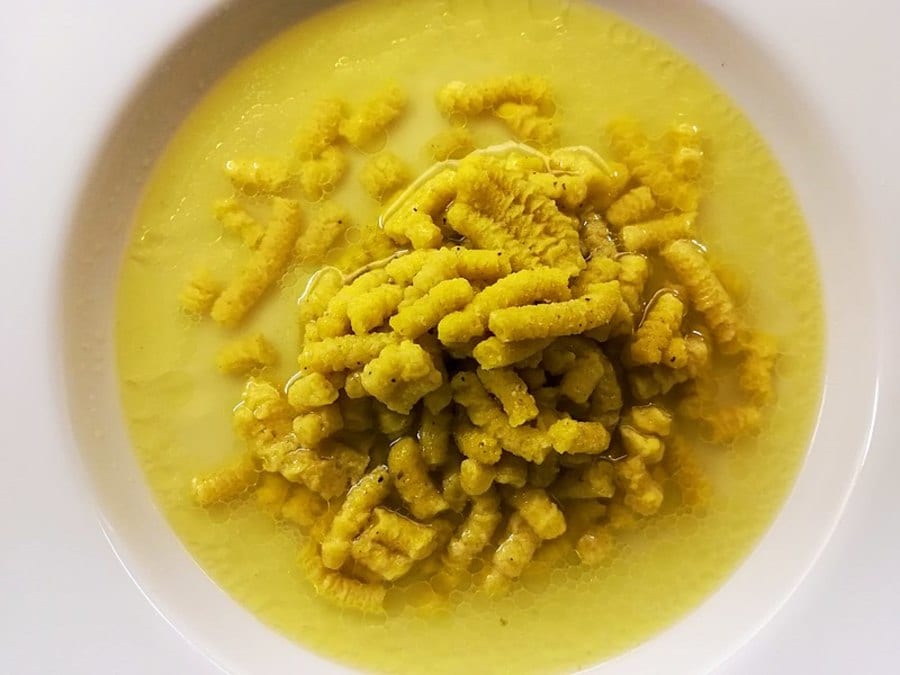 Pappa al pomodoro
Another way of recycling leftover bread is making Pappa al Pomodoro, a classic summer Tuscan cucina di riciclodish. Bread-and-tomato pappa(baby talk for 'food') was originally an unpretentious meal, a tasty and clever way to use leftover bread that no housewife would ever dream of serving to a guest. Pappa al pomodoro will be different depending on where it's being made. A crucial variable is when to add the bread. There are recipes where the bread is cooked in the soup––which lends the overall texture of a loose dumpling––and then there's the version where the bread is added at the very end off the heat, after the soup has already cooked. Different camps have equally avid followers depending on what they grew up with.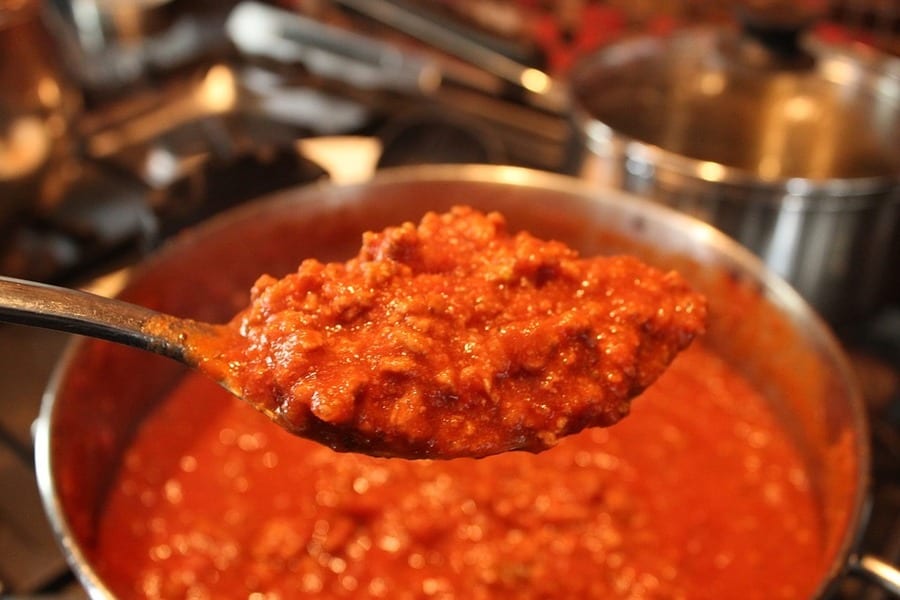 Zuppa imperiale
Zuppa imperiale is a rich, clear chicken broth––or, even better, brodomade with capon––in it swim small baked dumplings made of eggs, grated Parmigiano, semolina and butter. In some families, the dumplings are seasoned with nutmeg and black pepper. In Emilia-Romagnazuppa imperiale can replace the otherwise mandatory tortellini in brodo on the Christmasmenu.
Zuppa Pavese
According to local folklore, this dish was born in 1525 on the day King François I de Valois was defeated by Emperor Charles V of the Holy Roman Empire during the Battle of Pavia. The defeated monarch roamed the Pavese countryside in search of a place to rest and replete. When he arrived at a farmhouse called Cascina Repentita where he was detained for a few hours, he found a peasant woman brewing soup. The king identified himself and asked for a bowl. The woman placed in it a chunk of stale bread and some cheese, she drowned it in bone broth and then, fearing the food was not noble enough for a king––even a defeated one––she picked up two eggs from the henhouse, and broke them into the soup bowl. Voilà Zuppa Pavese.
Pasta e patate
Thick and hearty potato soup is a Naples specialty. Locals will insist this hearty carb-fest is mandatorily less soupy and more azzeccata, a dialectal term for "sticky". Pasta e patate traditionally uses pasta mista, originally sold cheaply by weight and made up of odd broken pieces of various different shapes of pasta. The original recipe consists in cooking the condiments first, making the base of the soup, then throwing in the pasta and cooking it in the soup. While cooking with all the other ingredients, the pasta retains precious starches, normally lost if cooked separately in salty water and then drained.
by Eleonora Baldwin