Using left-over ingredients
Necessitate Virtute, this Latin heritage is still firmly rooted in the Italian culture, including the gastronomic one. It is precisely the extraordinary ability of employing humble products, reinventing leftovers and transforming them with creativity what makes Italian cookery so special, as early as ancient Roman times. Among all, bread, a sacred product linked to many local traditions and cults, is the key ingredient that's salvaged at all costs. Italians kiss bread when it falls to the ground, and is scored with a cross during leavening. Bread is celebrated and on every occasion. Bread inevitably loses its freshness with time, but that doesn't mean it should ever be wasted: over the centuries, in fact, Italians have been able to give new life to this element, wetting it with water, oil and seasoning it with everything they had available. These are humble dishes belonging to farmers, shepherds, fishermen, those made to cope with boundless misery. Over time these very dishes have become a symbol of Italy's various regional cuisines. Simple recipes that in their humble origins have found the strength to resist over time, imposing themselves as main meals for long journeys, and to provide refreshment for workers returning home from the fields, the mountains or the sea. Symbol par excellence of this popular tradition, is panzanella, a preparation based on two symbolic ingredients of the Mediterranean tradition: bread and tomatoes, a key duo in the history of Italian gastronomy, a combination that over time has found its declination in different regions, establishing itself more and more as "the minimal gesture of Italian cuisine", as defined by Aimo Moroni.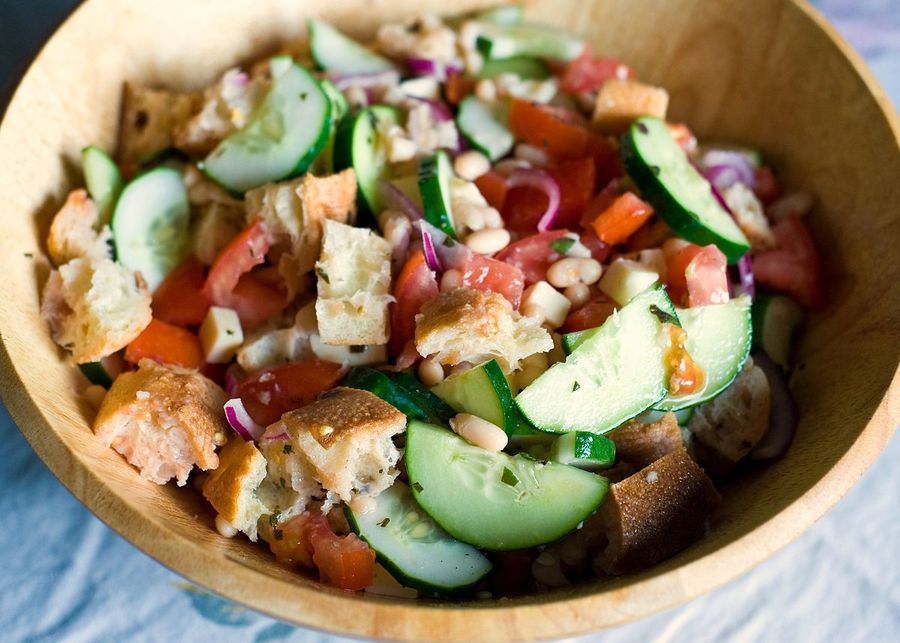 Tomatoes in Italy
But the arrival of tomatoes in Italy is the result of a long journey, which begins on the other side of the planet, in Latin America. In the beginning it was Mexico and Peru who first gave life to xitomatl, as the Aztecs called it (hence the English term "tomato"), a word that indicated a "plant with round, juicy pulp fruit filled with numerous seeds." The lycopersicon esculentum (this is the botanical name of the plant) remains a prerogative of South America until 1492 and beyond: the discovery of the New World, in fact, marks the introduction in Europe of products otherwise until then unknown, but not their consumption. Just like potatoes, in fact, tomatoes were initially classified as non-edible products: in 1544 the Sienese herbalist Pietro Andrea Mattioli, one of the first to write about the tomato, includes the plant among the poisonous species.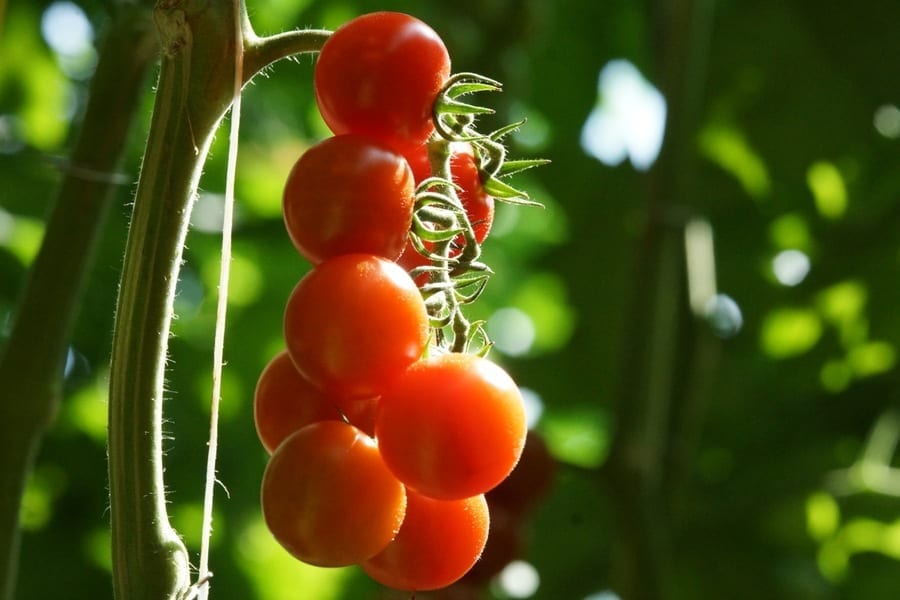 It is again Mattioli, however, to clear the rumors and the false myths that had begun to circulate on it, reporting on recipes of Southern Italy, where the tomato was cooked fried in oil. Between the late sixteenth and early seventeenth centuries the fruit began to be used by alchemists, who believed it posessed aphrodisiac properties: in European languages, in fact, we can find several expressions referring to these presumed characteristics, from the German liebesapfelto the French pomme d'amour, as late as the Sicilian dialect pumu d'amuri (all translating to 'apple of love'). It is only in the eighteenth century that it finally starts to spread among the kitchens of southern Europe, England and France (a legend has it that it was much appreciated by Louis XIV of France, the Sun King).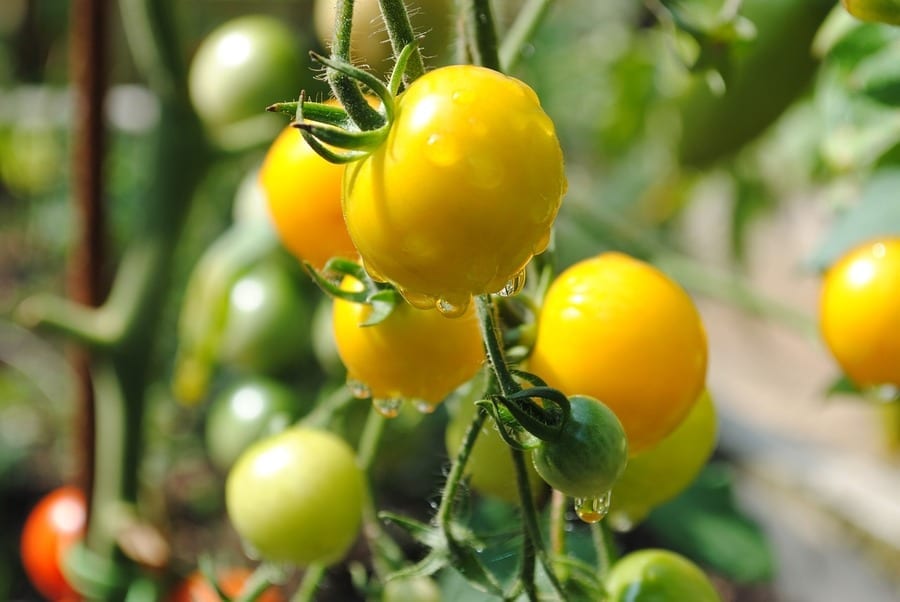 Today, Italy boasts over 320 heirloom varieties, including for sauce and for eating raw. Each region has its cultivar, used in local recipes, from pasta courses, to cooked and raw preparations using stale bread. Here, we have gathered the most popular summer specialties with as protagonist the bread and tomato combo, and including reference to winter soups, too.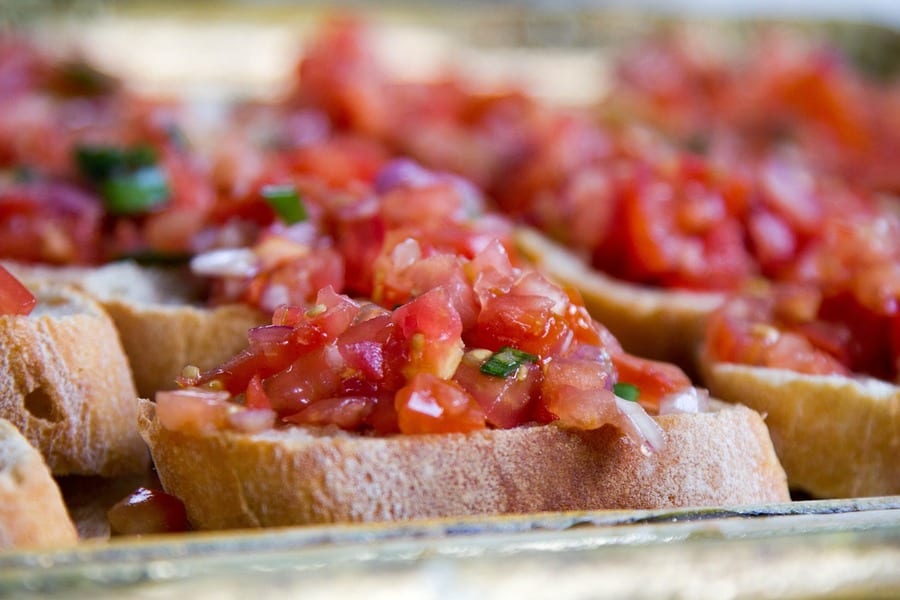 Tuscan and Lazio panzanella
Tuscan panzanella, mother of all the bread and tomato dishes, is a cold salad made with revived stale bread cut into small chunks, tomatoes, cucumbers, red onion, basil, salt, pepper, vinegar and extra virgin olive oil. Panzanella is an ode to sincere flavors and to the authentic taste of tradition, which embodies the essence of the Italian table. There is however a Lazio native variant, which instead uses slices of bread onto which the other ingredients are placed: a kind of bruschetta made with old bread. This variant is sometimes seasoned, especially on the coast of the province of Latina, with the addition of anchovies and capers. Each recipe, then, uses its own local ingredients: if in Tuscany it's the dry, salt-less soft wheat flour bread; in Lazio it's Lariano bread, a specialty of the Castelli Romani hilltop towns made with semi-wholemeal flour of soft wheat, baked in a wood-fired oven. Or bread from Genzano, which is made with soft wheat flour and water, prepared with natural yeast, or the simplest homemade sourdough bread, a historic product made since the 16th century in Rome by the "casareccianti."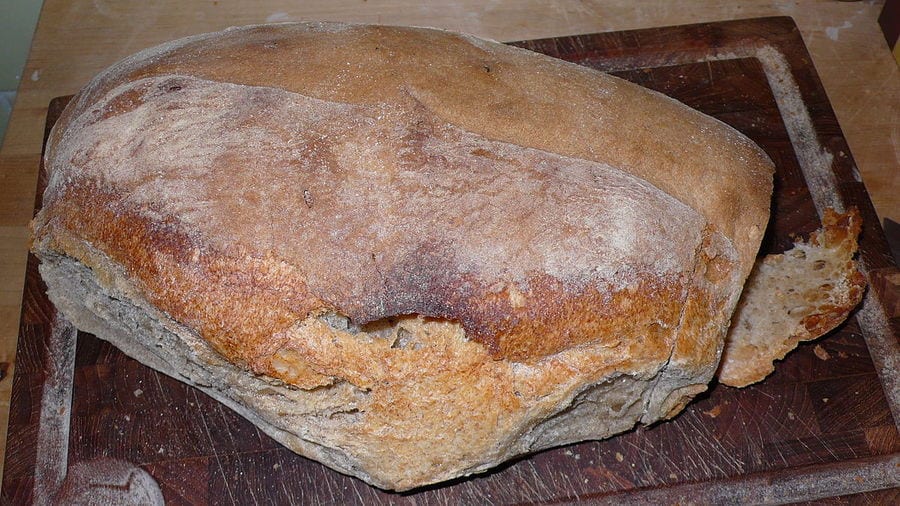 Local tomatoes
Also the tomatoes used change according to region: for proper panzanella, in fact, it's wise to look for native tomato varieties, which lend more personality to the dish. In Lazio, there is the torpedino, small and elongated tomato belonging to the category of mini San Marzano, which can be used both raw in salad when unripe, and in fresh sauces and preserves when it is harvested fully ripe. Then there are tomatoes corno di toro from the Rieti province, the scatolone di Bolsena, an ancient variety that is hollow inside and particularly suitable for sauces. Then there's spagnoletta typical of the Gulf of Gaeta and Formia. In Tuscany, however, it's the typically basket-shaped and ribbed canestrino di Lucca, and also the ciliegino toscano, small and round, much appreciated for its sweetness and juiciness, and then the famous cuore di bue, red and irregular, with smooth, thin skin, fleshy pulp, low in water and with few seeds, rich taste, sweet and slightly acidic.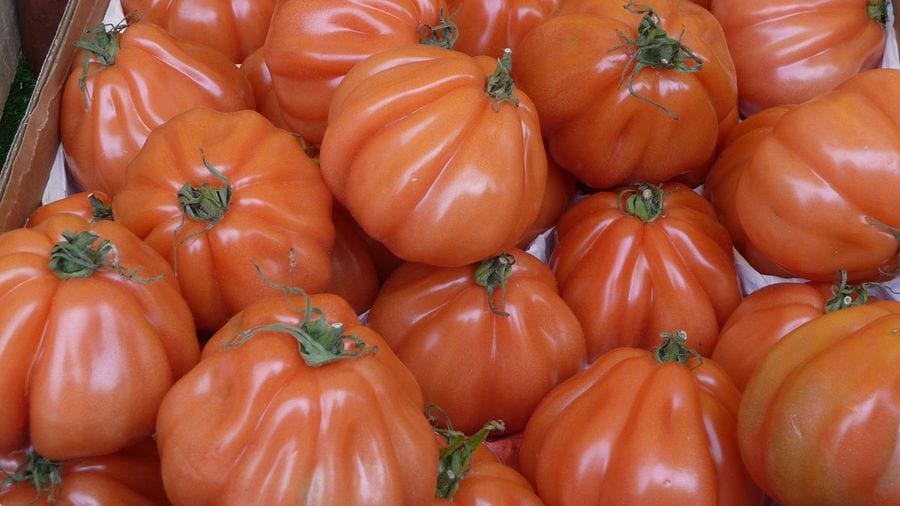 Abruzzo: la ciaudella
In central Italy there is also ciaudella abruzzese, a summer dish par excellence that once again stems from the need to reuse stale bread. In this case, the chosen bread changes according to area: spiga rolls of tender wheat in the province of Chieti, particularly in the area of Vasto, on the Costa dei Trabocchi; and corn bread - often embellished with boiled potatoes - in the Teramo area, Cappella bread in Chieti, with Senatore Cappelli wheat flour. The tomato par excellence here is the pera d'Abruzzo, that's large and ribbed, with a sweet and velvety taste, abundant pulp and few seeds, saved from extinction a year ago thanks to the recovery work on the "sanified" seed thanks to the Department of Agriculture of the Abruzzo Region in collaboration with CRA.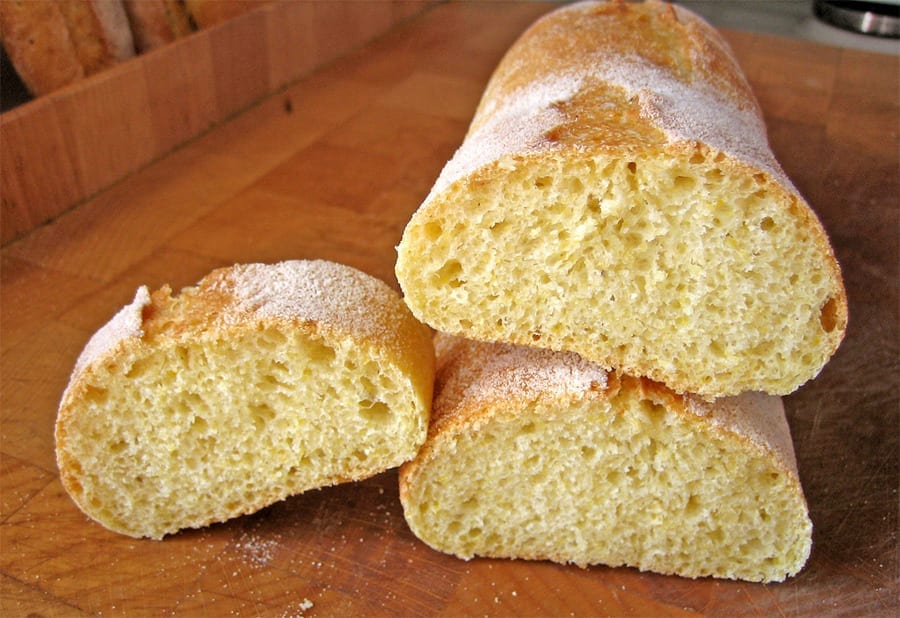 Basilicata: the harvester's breakfast
Also known as "the harvester's breakfast", cialledda fredda is the typical dish of peasant farmers, eaten in the summer before the onset of working long hours in the fields. Even to this day, it's this combination of wet bread, tomatoes, cucumbers, peppers and oil that's eaten to kick off the hottest days, an ancient tradition that continues despite the work of the harvest is now almost totally mechanized. The tomatoes used in this dish are ciettaicale, a native cultivar native to the Tolve area, in the province of Potenza, which owes its name to the agronomist who first selected it in the '30s, Lucia Aicàle, called Lucietta. On the bread front, is the famous cornetto di Matera, a large loaf made of double-milled durum wheat flour, whose weight usually ranges from 500 grams to a kilo, but that can reach up to 20 kilos, mostly during festivals and religious occurrences. But there's also the cuddura bread, a soft focaccia made with durum wheat that was once fed to pregnant women and the dying.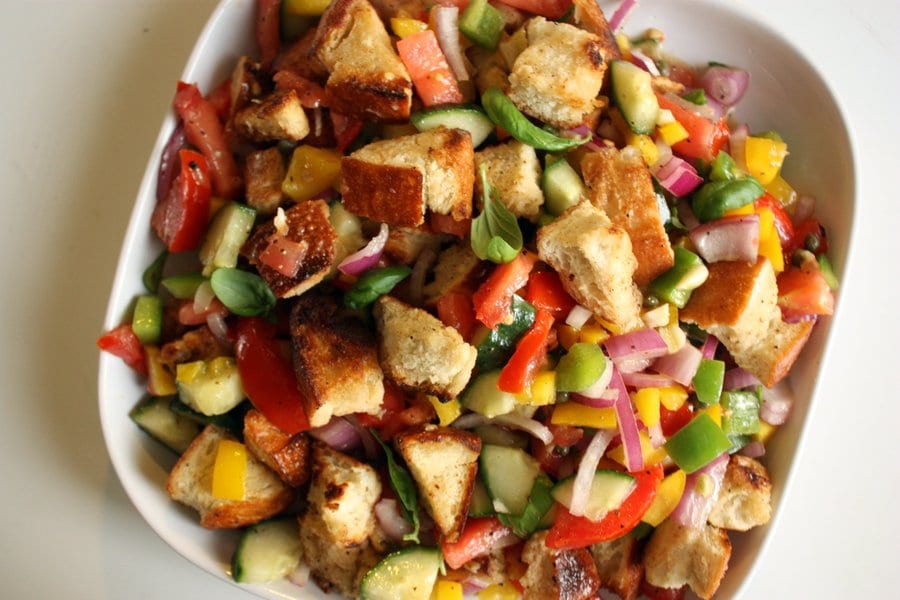 Friselle, sysmbols of Campania and Apulia
A golden dough that's baked twice and, once ready, lightly moistened with water and seasoned with extra virgin olive oil, oregano, salt and tomatoes. Friselle are a historical recipe of Apulia and Campania, based on durum wheat flour, water, salt and yeast, usually consumed as a single meal. In the past there were two different versions: one made with durum wheat flour, reserved for the most affluent tables and special occasions; and one made with barley flour or mixtures of barley and wheat, prepared by humbler families. Thanks to its long conservation, the frisella (from fresus, past participle of frendere, which means grinding) has become one of the most popular products during the first millennium, period in which it represented the meal of the soldiers departing from the South.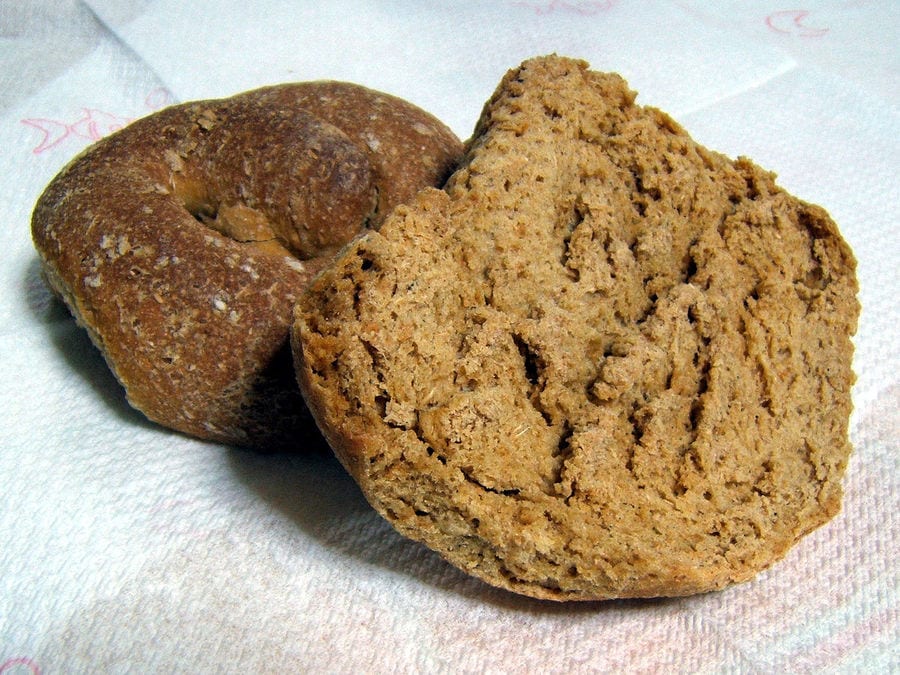 Campania and Apulia tomatoes
Campania farming is presented in all its splendor in its native tomato variety known as fiaschello di Battipaglia, corbarino, an elongated fruit with a deep red color, fleshy pulp and an intense sweet and sour taste. Then there's the Rofrano, the prized yellow Piennolo tomato - between the most ancient varieties - the Sorrento tomato, San Marzano, a pummarola classic, but also suitable for salads; cannellino flegreo, pizzutello, sweet-tart with characteristic pointy tip; seccagno di Gesualdo, squared and deep red, and the ancient tomato of Naples, the Smec 20 ecotype, recognized by Slow Food as the clone closest to the San Marzano, cultivated in the Agro Sarnese-Nocerino area.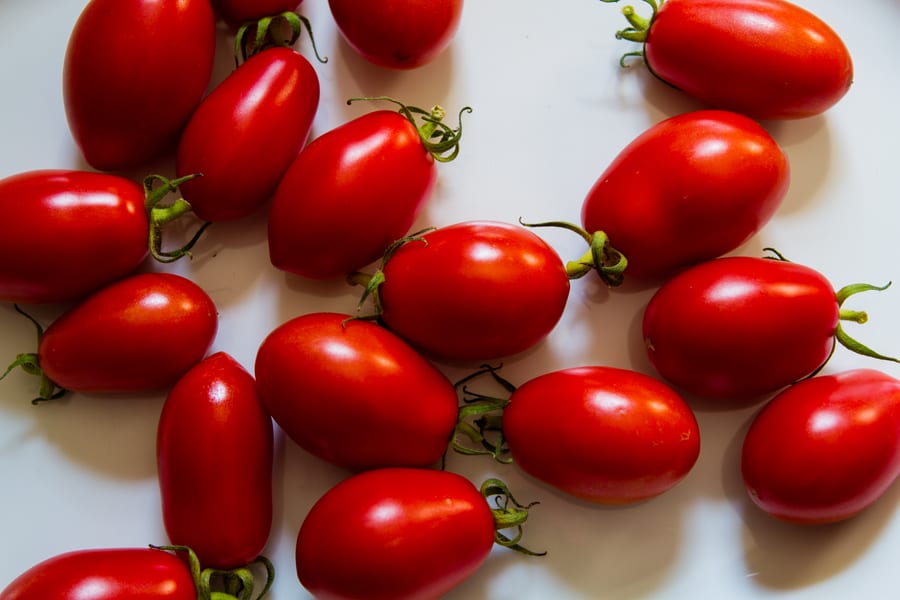 In Apulia, on the other hand, it's the pomodorino di Manduria, fiaschetto (historic Apulian variety employed in the end of summer passata-making tradition); the prunill, small slightly oblong tomato similar to wild plums; the Regina, grown in the Salento and in the marshy lands along the Adriatic coast between Fasano and Ostuni. Friselle aside, in Apulia another preparation based on bread and tomato is the acquasale, an ancient meal of fishermen and farmers made of stale bread soaked in water and topped with onion, salt, tomatoes and oregano, whose origins date back to the crusades: it seems that the Apulians used to offer acquasale to the Christian warriors embarking in the ports of the region.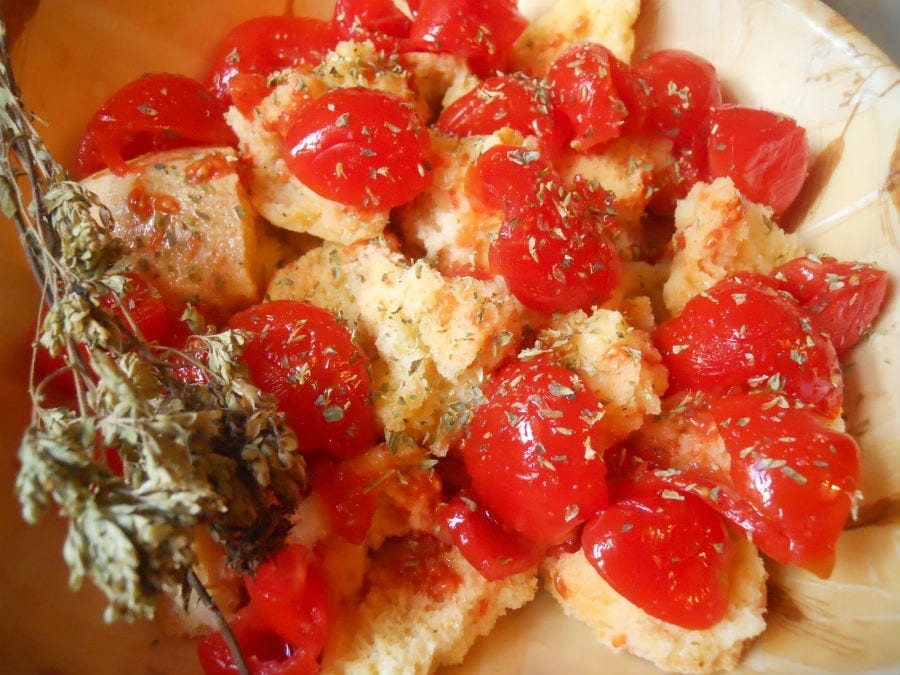 Calabrian bread salad
In Serra San Bruno, in the province of Catanzaro, every year for the Feast of Corpus Domini, men and women parade in a procession carrying a loaf of bread in the shape of a donut. For the feast of S. Antonio, locals prepare sandwiches, while for S. Biagio the "abbaculo", is a cake shaped like a question mark made with bread dough. These are just some of the many traditions that make Calabria a region strongly linked to bread baking, for a long time bread was the only form of sustenance for many families. Here too is a local version of panzanella, simply called bread salad. The loaf of stale bread is still produced by local housewives who score a cross on the surface of the dough, and sometimes include in the dough a blessed olive twig. In the bread also tomatoes (the Belmonte variety, for example, was introduced in the first half of the 20th century), oil, vinegar, basil and the ubiquitous Calabrian tradition: red onion of Tropea, sweet and crisp, perfect accompaniment for a humble yet richly flavoursome dish.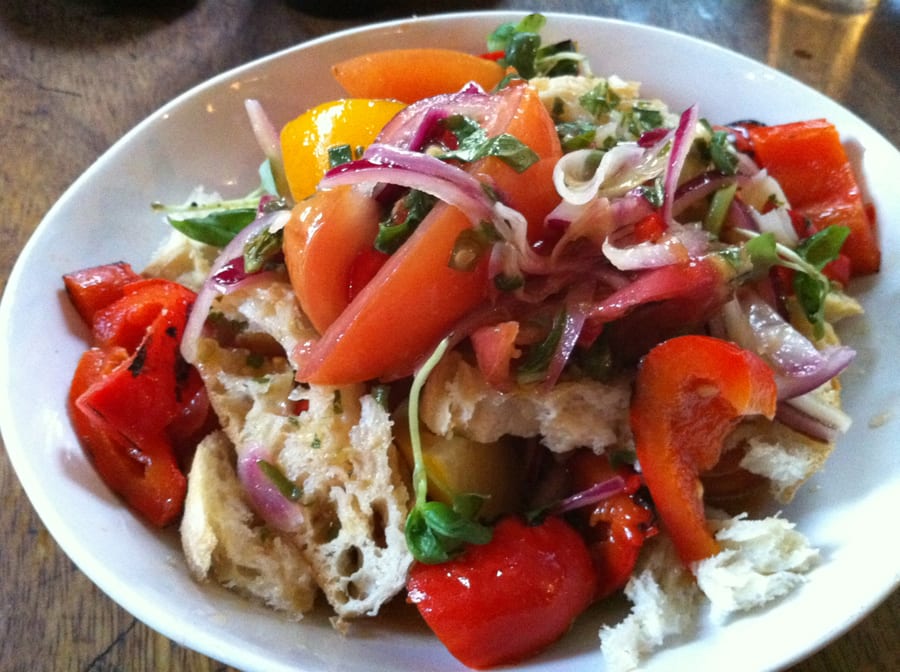 Tomato as a filling: u pani cunzatu
This was the food of those who could not afford pasta, meat or fish and was often topped with raw vegetables such as onion: even today in large part of Sicilian homes, especially in mountain villages, bread is prepared at home and baked in a wood-burning oven. Usually made of durum wheat flour, in many areas it is sliced horizontally, like a cake, and stuffed with tomato, extra-virgin olive oil, salt, oregano and also sardines and cheese: voilà u pani cunzatu (pane cunzatu, or seasoned), one of the typical specialties of the simplest Sicilian cuisine, made of few ingredients boasting unmistakable flavor.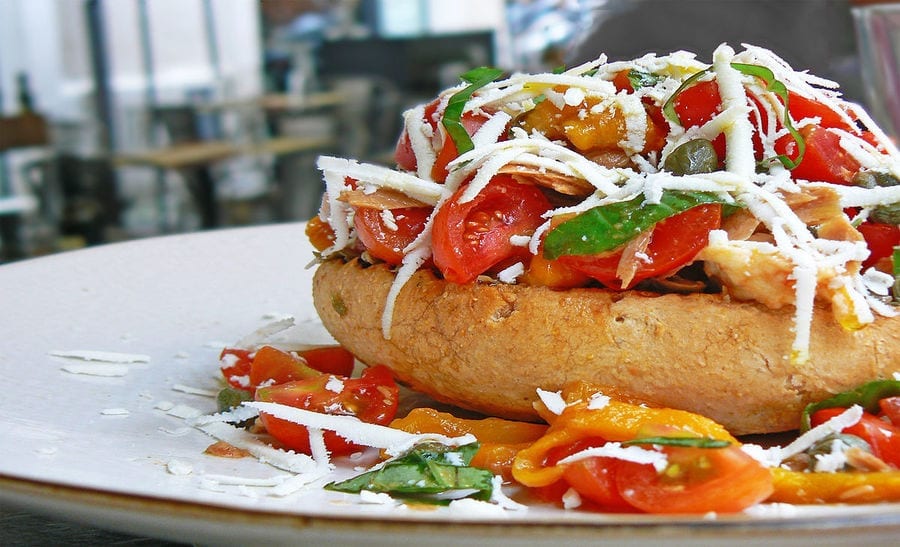 The homestyle bread made with local durum wheat flour known throughout the region as the "vastedda" is typical of rural areas and small towns. This round roll can be filled with various delicacies, such as tomatoes from Pachino, present in different varieties (ribbed, cherry, smooth round and vine-ripened clusters), and the marinda variety, a ribbed tomato with a flattened shape and an intense, very sweet and persistent taste, typical of the winter season and that can be stored for a long time.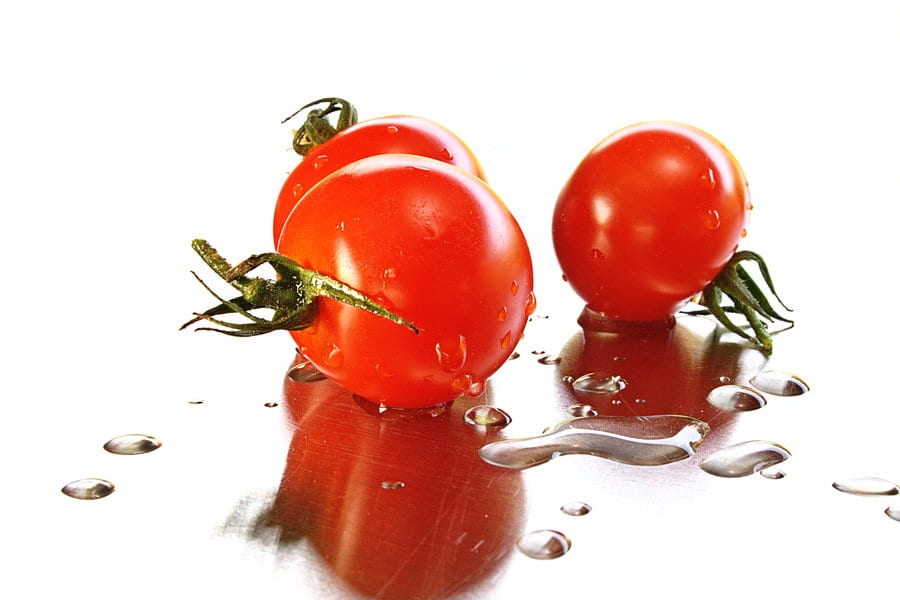 Warm bread and tomato dishes: pappa al pomodoro and acquacotta
If the recipes to choose from in summer are many, there are just as many warm versions using the delicious combination. The combination of stale bread and tomato, in fact, gives rise to corroborating dishes that are perfect in every season. For those who turn on the stove even in summer, a Tuscan must is pappa al pomodoro, a soup made with bread, tomato, extra-virgin olive oil, herbs and vegetable broth: simple and substantial, whose origins have always been disputed between Siena and Florence. Also native to Tuscany is acquacotta, an ancient soup made with tomatoes, chard, eggs, homemade bread and broth. In Umbria this soup is prepared with only tomato, Parmesan and mint.
Sardegna: pane carasau and tomato
There are also many variations of bread produced in Sardinia: there is coccoi a pitzus, for example, artistic bread of different sizes, made with durum wheat semolina and also called su scetti, usually reserved for holidays and large celebrations, and then pane carasau, a very thin sheet of crisp bread made with durum wheat semolina (even if there is a less prized version made with barley flour), born in the mountain villages from the need to have a product with a long shelf life. The cracker-like bread was invented by women intended for their shepherd husbands leaving for month-long transhumance. The term carasau derives from the verb "carasare", the last stage of the preparation, a second baking: a kind of roasting that makes bread sheets crisp. Among the most famous recipes that see carasau as the star is pane frattau, preparation in which the carasau is softened in meat broth or water and layered with sauce and grated pecorino cheese, and topped with a poached egg (cooked in the same liquid). Sardinian tomato par excellence is the camone, smooth and round, with fleshy pulp and crisp texture.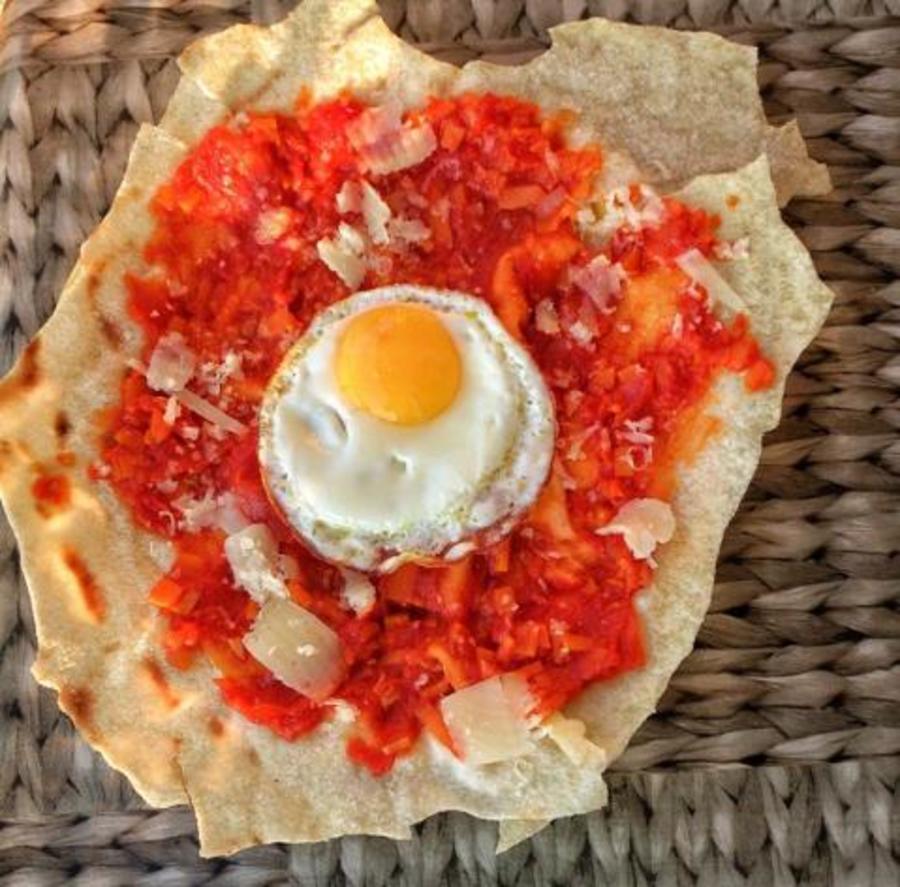 Must-use ingredients: extra-virgin olive oil
If the one between bread and tomato is a happy and lasting marriage it is also thanks to the presence of other fundamental ingredients such as aromatic herbs - fresh oregano in Southern Italy, mint and calamint in Lazio and Umbria, basil in Tuscany - and extra-virgin olive oil, which is an ideal flavor enhancer. The choice, as always, varies according to personal taste, provided that the choice be among quality extra-virgin. A useful guideline to follow may be keeping it geographic: what grows together, goes together.
For a Sicilian pani cunzatu, for example, you can use a tonda iblea monocultivar, an olive with a typical hint of ox heart tomato and Mediterranean herbs, or a nocellara del Belice, that's more vegetal and played on a complex and persistent aromatic texture. In Sardinia, the bosana, with its taste of myrtle leaf, is well suited to the mix of flavors of pane frattau, as well as the classic Tuscan blend of moraiolo and leccino is suitable for soups - pappa al pomodoro and acquacotta - and the itrana delle Colline Polline is perfect for panzanella. You can also pair by contrast, as long as you always select good oils that can further enhance the recipe.
Panzanella recipe
by Michela Becchi