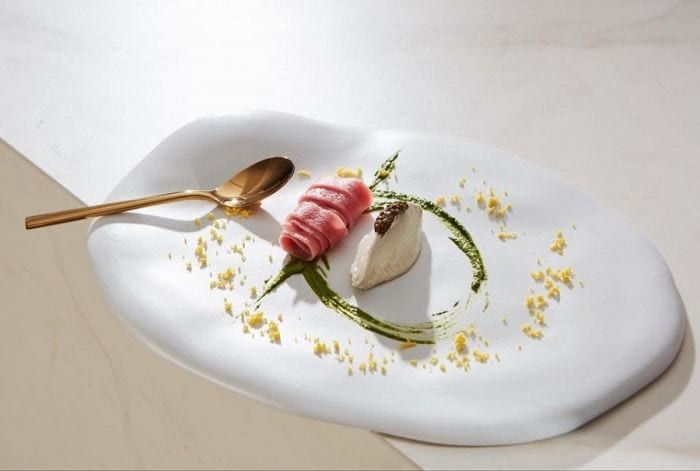 After Macao and New Zealand, the Iaccarino family lands in Canada, where at the end of June the new restaurant opened in partnership with Nick Di Donato of Liberty Entertainment Group.
Well beyond the ability to maintain high standards of excellence cuisine contributing to making the history of Italian dining, what's striking today about the Iaccarino family, a great team held together by the passion of Livia and Alfonso Iaccarino, is willingness to put in practice the philosophy of hospitality that has made Don Alfonso famous worldwide, and today renewed with Ernesto (in the kitchen) and Mario (for the hotel management aspect).
So why not keep thinking big? Leading the Don Alfonso brigade in Toronto will be at least for the next two years young chef Daniele Coronafrom Fuorigrotta (Naples), along with Oliver Glowig, for whom he directed the kitchen of Poggio Le Volpi until his departure for Canada – under the supervision of Italian-Canadian executive chef Saverio Macrì. The positioning is that of a fine dining venue with an 8-course tasting menu (and a vegetarian version) and any combination with the classic or molecular cocktails of bartender Oliver Stern, or alternatively the à la carte menu, with mezzanine reserved for aperitifs (with a dedicated snackmenu) and totally white dinner dining room with marble finish and Italian handicrafts.
About 60 covers, with the debut menu ranging from eel gelato with sturgeon caviar, tagliatelle flavoured with rose hips, mint and egg yolk crumbled, bison fillet with rustic manitoba crust, mozzarella, tomato and salsa verde, Gragnano vermicelli with pickled mackerel, pine nuts and caramelized onion, ending with Neapolitan sfogliatellatopped with a sour cherry.
Don Alfonso Toronto – 19, Toronto Street – Toronto – donalfonsotoronto.com