After reading this you'll have no excuse to avoid preparing sweets at home. Here are the recipes to make chocolate ganache, pastry cream (both classic and chocolate-based), crème anglaise and whipped cream, which when added with confectioner's sugar and vanilla becomes Chantilly cream.
Chocolate ganache
Legend has it that in France a distracted pastry chef poured boiling liquid onto chocolate by mistake. Trying to remedy the small disaster, he laid the foundation for one of the most versatile creams of international pastry, the ganache. This lucky mistake is nothing more than an emulsion of water (contained in liquids, more traditionally heavy cream) and fats (contained in chocolate and butter). The result is a thick, shiny cream that melts on the palate. Here we're sharing the simplest version, to which you can add honey, a natural anti-crystallizer that helps maintain the shine of the preparation, and butter that lends creaminess and softness.
Ingredients
¼ l fresh heavy cream
200 g dark chocolate
Finely chop the chocolate using a robust knife. Heat the heavy cream in a small saucepan over a gentle flame until it reaches boiling point. Remove from the stove, add the chopped chocolate and stir until completely melted. Transfer to a mixing bowl, once cooled completely, whisk with an electric beater, slowly at first and then progressively speeding up. Beat for at least ten minutes until double in volume, it will be frothy yet thicker and denser than regular whipped cream. This cream is particularly suited as cake filling.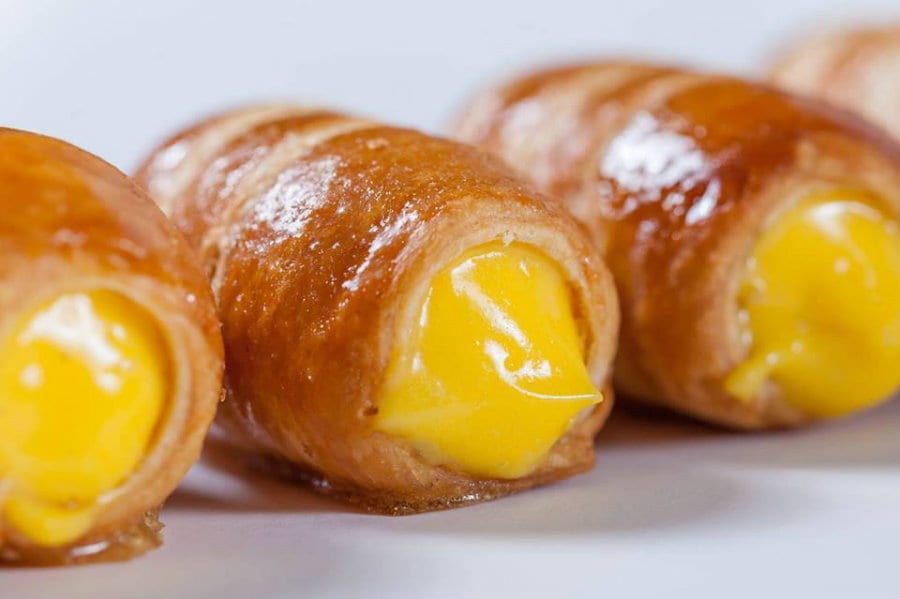 Pastry cream
The exact mixture of its components, the right balance and proper cooking, lend a cream with well-defined characters: smooth, soft and slightly viscous, sweet and aromatic, of a typical "cream yellow" colour. It is therefore a product of absolute simplicity in its composition and appearance, but which requires considerable care and attention during preparation.
Ingredients
4 very fresh egg yolks
1/2 l milk
150 g sugar
50 g flour, sifted
Rinds of 1 untreated lemon
Salt
Boil the milk (save 1 glass for later) with two lemon rinds and a small pinch of salt. In a mixing bowl and using a wooden spoon, mix the egg yolks and the sugar to obtain a paste. Add the sifted flour. Dilute the blend with the glass of cold milk and stirring constantly pour the boiled milk in one continuous stream. Pour the cream in the saucepan used for the milk and place back on the burner. Cook at medium heat stirring constantly for a few minutes, until thickened. Once cooked, remove the lemon rinds and pour in a container to cool. During cooling stir occasionally to avoid a "skin" forming on the surface.
Chocolate pastry cream
For the chocolate version, after pouring the hot milk, add to the blend 100 g of fine quality dark chocolate melted in a double boiler, or in the microwave, added with 2-3 tbsp. of milk. Cook as described above. For a hint of almonds, substitute the lemon rinds with freshly picked peach tree leaves.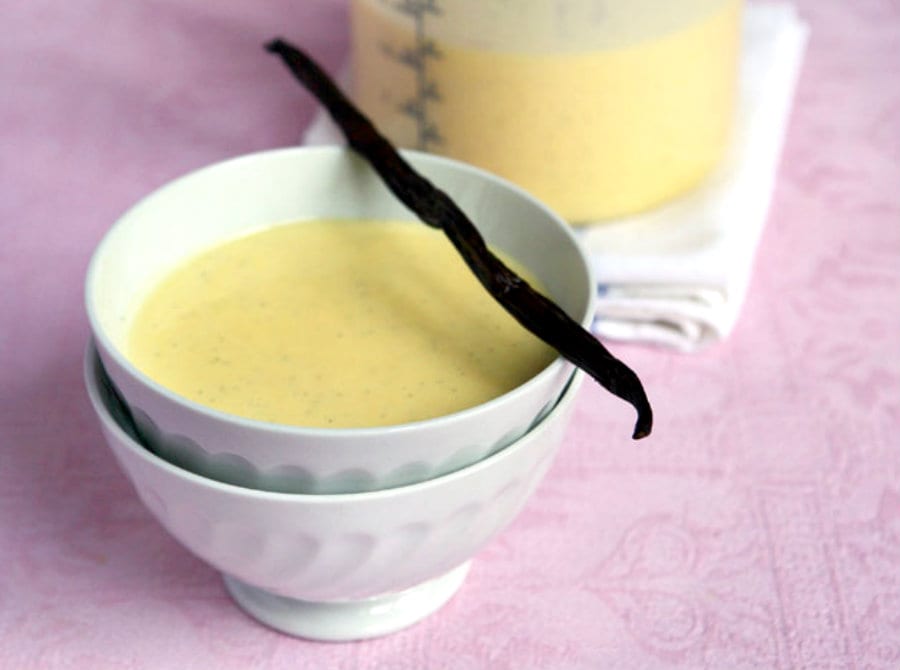 Crème anglaise
Unlike pastry cream, this preparation does not contain flour and is therefore less dense. That's why this is the base for other desserts (especially Bavarian cake) and is ideal accompaniment to other desserts or baked goods. In this case, once cooled, you can characterise the flavour by adding two or three tablespoons of aromatic liqueur.
Ingredients
5 very fresh egg yolks
1/2 l whole milk
120 g sugar
1 vanilla pod or your preferred aroma (lemon or orange zest, roasted coffee beans, etc.)
Pour the milk in a small saucepan, add the vanilla pod cut lengthwise and bring to a gentle boil. In a mixing bowl and using a wooden spoon, mix the egg yolks and the sugar until they become paler. Stirring constantly, pour in the milk in one slow stream. Pour the obtained cream in the saucepan used for the milk and place this in a not too hot double boiler to heat en bain marie. This cream must thicken without ever boiling, which causes lumps and could separate. Stir continuously during cooking. To check if ready, check to see if the cream coats the wooden spoon. Pour immediately in a vessel placed over ice. During cooling, stir often to avoid a "skin" to form on the surface.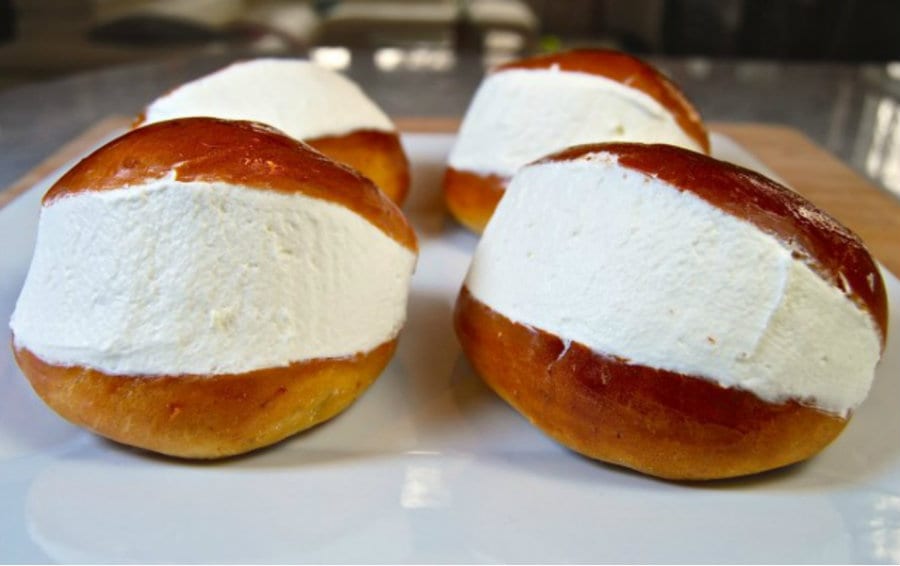 Whipped cream
To properly whip the cream, it's essential first of all that the heavy cream be very fresh and very cold. It must therefore be kept in the refrigerator (not in the freezer) until it is ready to be whipped. In summer, the necessary tools, i.e. the bowl and the whisk, should be kept chilled too. Remember how heat facilitates the transformation of cream into butter.
Ingredients
Heavy cream
Initially the heavy cream must be beaten slowly, once it starts to thicken. When small bubbles start to form, the beater can increase the speed and keep it consistent until the cream becomes a soft and fluffy mass, doubled in volume. At this point it's important to not overbeat the cream – which would result in small globules of butter.
Chantilly cream and Diplomatic cream
If you want to prepare Chantilly cream, add the vanilla pod to the cream and, once whipped, add sifted confectioner's sugar and mixing it gently with a circular motion bringing it from top to bottom with a wooden spoon or a rubber spatula. If instead you want to prepare diplomatic cream aka Italian Chantilly cream, add the same amount of dense pastry cream to the whipped cream. Check the recipe above!