Angelo Iezzi's pizza style
Angelo started the pizza al taglio revolution in Rome many years ago (in 1987), in the kitchen of Angelo and Simonetta, when he first started studying flour selection, high hydration and long leavening timetables, in order to obtain a cold matured dough which to this day is still one of the best in Italy in terms of lightness and fragrance. Angelo Iezzi has come a long way since then, multiplying his business in the city. He even founded a national pizza academy in 1992 in the San Basilio neighbourhood. His pizza squares won awards (2 Rotelle recognition from the Pizzerie d'Italia Gambero Rosso guide went to the via Nomentana flagship venue) and he exported his know-how, in Dubai for example, where he teaches at the International Center for Culinary Arts sharing with young students the secrets of proper dough kneading according to the "Iezzi method." Before that, with his flours, Angelo landed in Seoul, where in 8 years his teachings have trained over 300 aspiring Asian pizza chefs. It's also for this reason, even if credit goes mainly to the pizza, that reception overseas has been so warm.
PQR in New York City
Now Angelo Iezzi's pizza attracts crowds of New Yorkers curious to taste his squared Roman pizza, PQR as the sign reads over the entrance at 1631 Second Avenue, in the Upper East Side: "We found a beautiful space located in the most central area of Manhattan, everyone keeps asking me how this was possible: here the commercial spaces are small, while we on the other hand can count on 140 square meters of shop and as many on the lower floor, for the baking laboratory. We even set up a small dining room with 35-40 seats: a rarity!" For a long time, Angelo wanted to export his pizza to New York. In regard to "the great roman pizza master" as the local press now calls him, locals were particularly benevolent equally when a few months ago they welcomed colleague Gino Sorbillo. "Meeting with Fabio Casella was fortuitous, together we decided to launch a company that we hope will allow us to grow with the format. We estimate the reception in the first few months, but the intention is to open at least 2-3 other sales points in the city, and then look elsewhere in the US."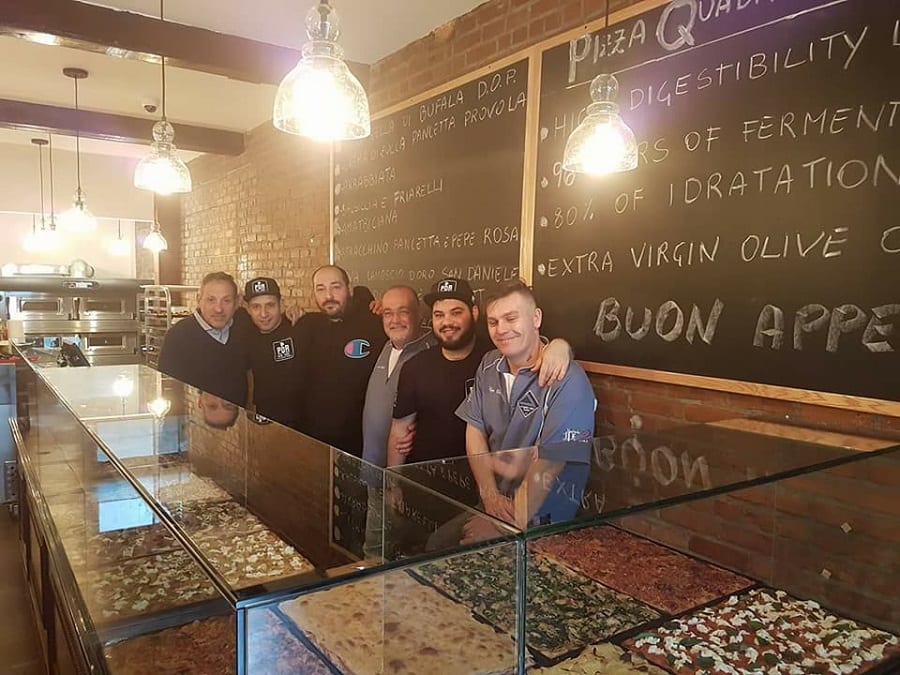 Alliance with Fabio Casella
Fabio Casellahas had a chance to know the New York dining scene well in recent years: with his brother Ciro from Salerno he first introduced panuozzi and Neapolitan-style pizza to the city. It was 2010, when the first San Matteo Pizza &Espresso Bar brand venue opened: today the company has two other venues, also in Manhattan, Il Salumaio and San Matteo Pizzeria and Cucina, opened in 2015, but the core business remains in Second Avenue, where the Casella brothers first started, not far from PQR is located. Angelo will stay a little longer in New York, but the PQR team is all-Italian and well trained on the Iezzi method: "I brought with me my right-hand man and two young pizza makers that I trained to take care of the restaurant in the coming months, I want the product to be identical to the Roman one. We are succeeding and also thanks to the easy availability of high quality products on the American market."
The PQR pizza
PQR is open from 11 am to 10 pm, and open until 1am on weekends. On opening day, the management immediately knew what they were in for, "we finished everything", admits one very tired yet satisfied Angelo. Approximately thirty toppings will rotate on the sales counter, and never less than 15 at a time: "I bring with me to New York my simplicity, Italian flours, excellent ingredients for toppings and creativity. The pizza that drove the first customers crazy was grapes, prosciutto, brie and truffles." But there's also the potato dough pizza stuffed with porchetta (roast pork), or the pizza with eggplant parmigiana, amatriciana, and pizza arrabbiata: "I won't make concessions to the local market, we will never serve pepperoni pizza, I refuse to! We only serve our truth and we'll not compete with others." In a few days the menu will also include supplì and crocché, "as a tribute to our partners from Campania". The product is of high quality, and the location favourable: "We are at the heart of a block that includes restaurants and pubs, all at a short distance. After a few beers, ending the night with a slice of pizza is the best." Angelo Iezzi's American adventure has started in the best possible way.
PQR – New York, NY – 1631 Second Avenue – www.pqr-nyc.com
by Livia Montagnoli
translated by Eleonora Baldwin