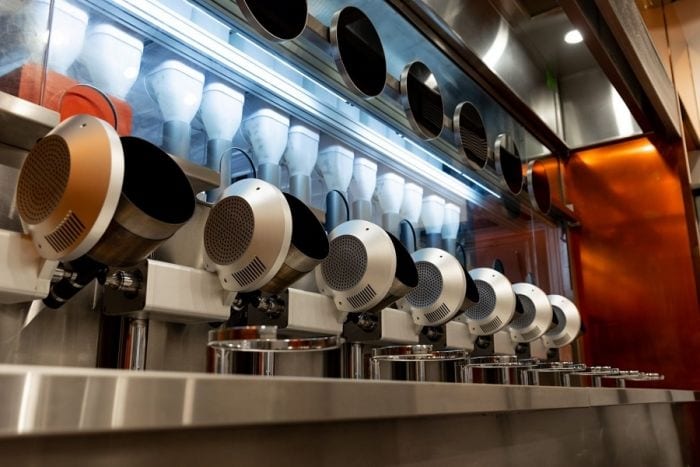 The debut in Boston was less than a month ago, and it soon became the talk of the town. And not because of its superstar chefs. The guests at Spyce, located at 241 Washington Street, are welcomed to a rather unusual setting: an open but fully automated kitchen, and avant-garde engineering work designed by a team of young MIT researchers, who like to call themselves the Spyce Boys.
The name of the invention promises to revolutionize the fast food service is the Spyce Kitchen, a robot programmed to produce food that's ready for service in less than three minutes, with the idea of reducing food costs, optimizing the resources and guaranteeing the opportunity to eat out even to those who can't afford a traditional restaurant (the full meal is sold at 8 dollars). But with the quality of select ingredients and healthy cooking, in contrast to menus of the most famous fast food chains. On the menu are variations of bowls (which recently have literally invaded the American market, and are rapidly catching up in Europe, too) filled with balanced combinations of ingredients – vegetables, seeds, cereal, seafood – that the robot can easily assemble.
The machine, equipped with 7 mechanical arms, handles the operations of a brigade of 7 chefs, in a serial fashion. All customers have to do is send their order choosing the preferred ingredients on a touch screen: the dish will be completed in a few minutes, and the robot will also clean up the workspace, ready for a new order. Supervising operations, however, is the experience of chef Sam Benson, the fifth element of the Spyce Boys, who for the occasion benefitted from the sound advice of Daniel Boulud (Benson worked under Boulud at Café Boulud), master of French technique and rigor, who for the first time is involved a project that goes far beyond his idea of cooking.
The result is fine food that's affordable and served quickly. To be eaten on the spot, or for take out, operating non-stop hours, from 10.30 am to 10 pm. The solution proposed by the MIT team opens up new possibilities for the evolution of automated dining, which continues to be questioned in regard to the risk of depersonalizing the profession of the cook and distort the customer's experience.