Beyond the three magic P's––pasta, pizza, polenta––there is a vast choice of traditional recipes that omit animal protein. The average everyday Italian diet is very vegetarian-friendly, and the reason for this is the country's cultural heritage.
Italy experienced opulence only after the industrial revolution. Animal protein until then was a lavish indulgence not all layers of society could afford, especially in the more poverty-stricken, rural areas of the country. Proof of this late 19thcentury austerity is now densely present in the traditional meatless preparations of cucina povera, classic recipes and regional specialties.
Not all Italians consume the proverbial 5-course extravaganza at every meal, on the contrary. Eating red meat is actually not that habitual, the average family's diet includes a variety of white meats, cured pork and lots of fish and seafood. But Italy is also the country whose menus brim the fullest with exciting side dishes, complete meals based on vegetables and varieties of seasonal produce used in traditional preparations.
The variety of cereal and grains, pulse and legumes, olive oil, organic eggs, vegetable sauces, hearty soups, ambrosial condiments, abundant dairy, and heaps of fresh produce grace Italian tables at every meal. Here are a few representative elements of that sans meat bounty.
Pomodori al riso
Rice cooked within a roasted beefsteak tomato is one of the best ways Italians know to employ the summer crop. Not using too many ingredients and seasonings, pomodori al risoare commonly made at home, but are just as easily purchased at deli-like tavola caldacanteens. Succulent tomatoes are hollowed out, the mix of pulp, flesh and seeds is mixed with raw rice, garlic, heaps of basil and oregano, olive oil and salt to make the stuffing which is spooned back into the tomato shells, nestled amongst potato wedges on a shallow tray and then baked in the oven until insanely flavoured and the is rice moist, plump and tender, and the potatoes are golden and charred at the edges.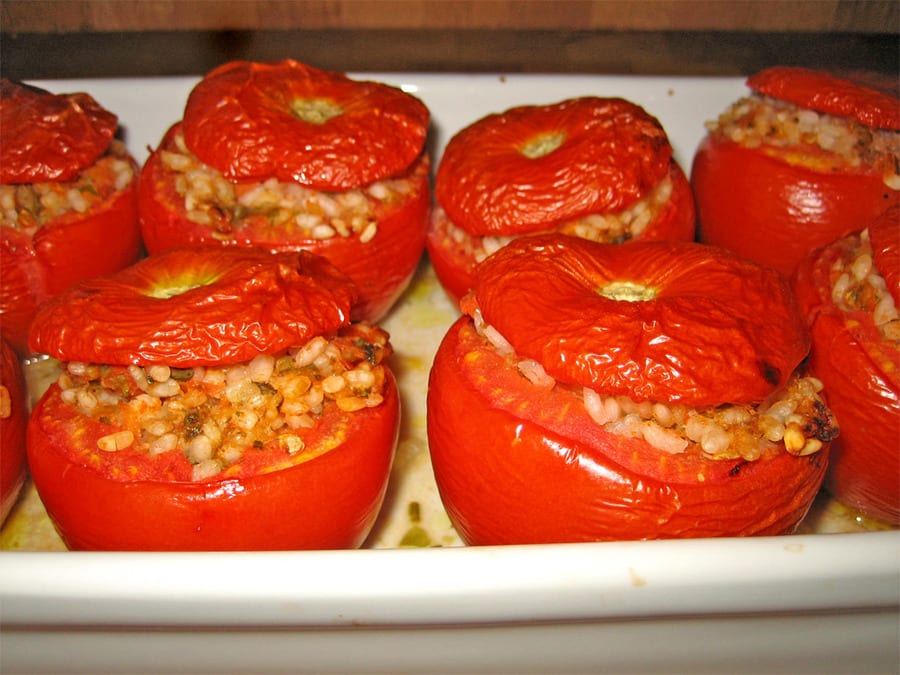 Gnocchi alla romana
You may be familiar with potato gnocchi but gnocchi alla romana are less famous. The dish has its origins in traditional peasant cuisine with the use of "poor" ingredients such as semolina. For this delicious treat native to the region of Lazio, the "gnocchi" are prepared by mixing semolina, milk, butter, grated Parmigiano, beaten eggs, ground nutmeg, salt and black pepper to obtain a thick dough. Flat hockey puck-sized discs are cut from the dough, these are then assembled in a greased oven pan and dusted with copious amounts of grated Parmigiano and flecks of butter before being baked au gratinin the oven.
Fiori di zucca
Along with fried sage leaves, fried zucchini blossomsare mouth-watering treats of the addictive kind. The zucchini tops are dipped in a soft beer batter, deep-fried and eaten immediately. Be aware that in Rome, where this dish is from, restaurateurs may offer variations that feature anchovies in the melted mozzarella filling, so make sure to inform your server that you don't eat fish.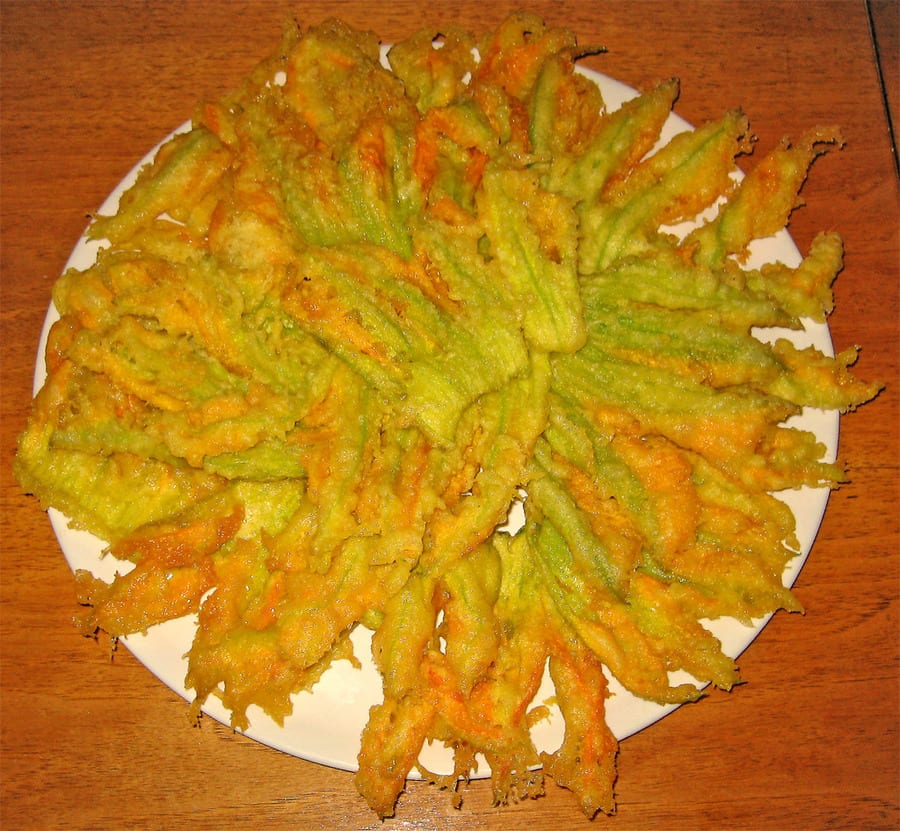 Carciofi alla romana
Artichokes first appear in Italian markets with the leaden skies of January and accompany us through May, when the large globe, or Romanovariety reaches its prime. Carciofi come in a tremendous variety of shapes and sizes, from tiny delicate buds well-suited for being eaten raw in pinzimonio (a dip made with simple olive oil and salt) or preserved sott'olio (in oil); to purple-green grapefruit-sized orbs ideal for being sautéed, stuffed, shaved in salads, chopped and cooked for pasta sauce, fried whole, Jewish-style alla giudìaand more. Artichokes grow abundant in the Roman countryside, it's no surprise then that "alla romana" should be one of the most appreciated artichoke recipes in the Eternal City. Braised until fork-tender, the artichokes are trimmed and stood upright with their stems in a pan with garlic, olive oil, water and mint.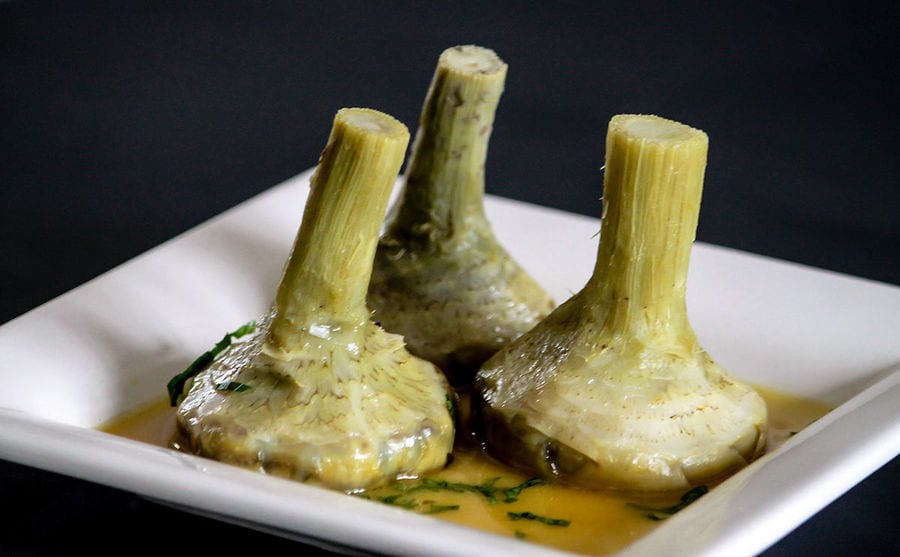 Fagioli all'uccelletto
This typical Tuscan recipe that employs borlotti beans stewed in a rich tomato sauce spiked with fragrant sage leaves is normally considered a side dish, commonly complementing 2-pound Fiorentina steaks. Yet, given the protein content and the richness of this dish, it can stand alone on any vegetarian table. Their name, which translates to "beans little bird-style," is owed to the presence of herbs once used to flavour wild game in the ancient Tuscan culinary tradition. In the days when game was unavailable, beans were a sensible substitute thanks to the similarity of flavour with the small birds.
Panzanella
This summer preparation is a clever use of leftover bread. Italians are experts in recycling food surplus, especially bread. The broken-up pieces of sourdough are revived and flavoured thanks to the juices of chopped fresh tomatoes, sliced cucumber, finely chopped red onion and plenty of fresh basil. The condiment of hearty glugs of olive oil and white wine vinegar, seasoned with only salt and pepper, make panzanella a perfect meal for vegans too.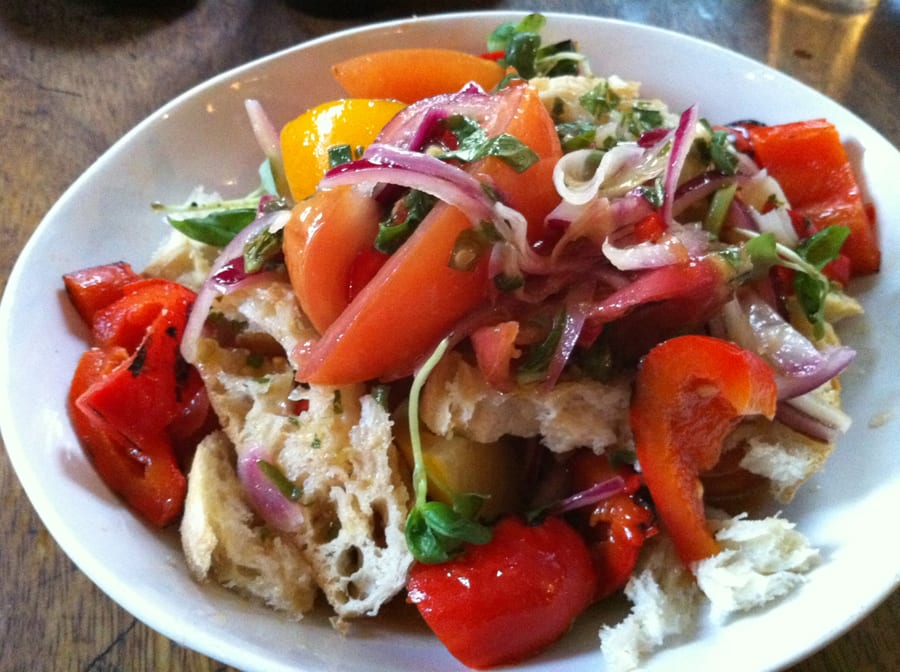 Agretti
Also known as "friar beards" earthy, iron-rich knots of meaty grass that looks like seaweed owe their slightly bitter and salty taste to the Lazio marshlands where they grow between March and June.Agretti are very rich in iron, and kids love to eat them because they look like green spaghetti. Italians normally serve them steamed with just a few drops of lemon juice and olive oil, but they can be cooked in a variety of ways, including stir fried in olive oil and garlic.
Pasta alla Norma
Pasta tossed with fried, diced eggplant, tomato sauce, basil and salty ricotta shavings is a dish typical of the Sicilian city of Catania. The recipe, named after the opera "Norma" by Catania-native composer Vincenzo Bellini, is quintessential Sicilian home-style fare. In the past when meat was scarce, aubergine––with its chunky look and meaty flavour––was often used as a substitute. When fresh ewe's milk ricotta goes through its natural aging process with the help of a salt rub, it becomes a hard, flavourful and crumbly cheese, suitable for eating or grating. Ricotta salatais profusely dusted over the pasta dressed with zingy eggplant and tomato sauce, effectively defining this fantastic vegetarian dish.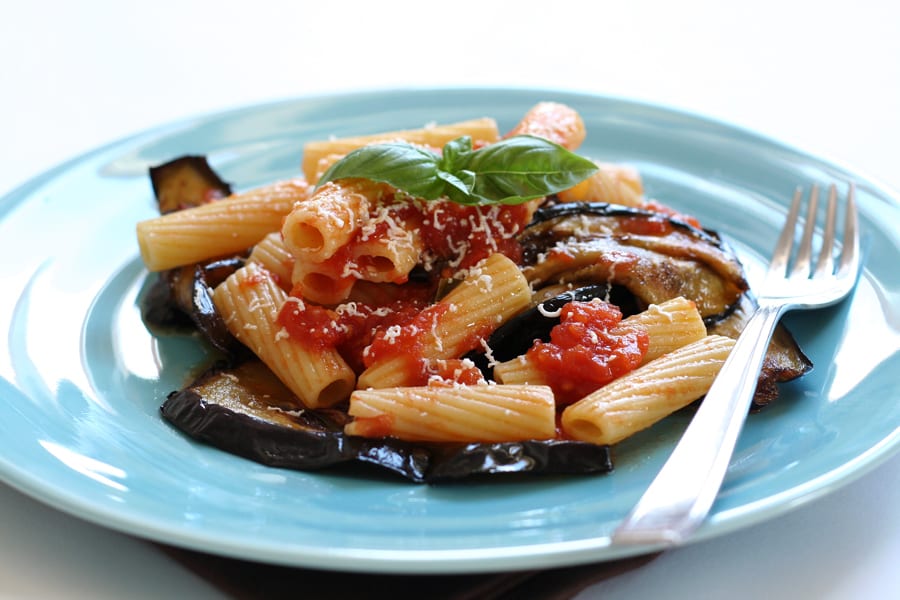 Tortelli di zucca
If you love ravioli and in general egg-dough stuffed pasta, northern Italy boasts a large variety of it. Roasted pumpkin, crumbled amaretto biscuits, cheese, eggs and a piquant fruit chutney called mostardaare the filling of delicious vegetarian tortellitypical of Mantua and Ferrara in northern Italy. Tortelloni with ricotta and spinach, typical of Emilia-Romagna, and cappellacci with assorted fillings like artichoke, mushrooms or cheese––dressed in simple brown butter––are valid alternatives to meat-filled tortellini.
Insalata caprese
This is every Italian's go-to summer dish. Made with buffalo mozzarella, ripe tomatoes and fresh basil, 3-ingredient caprese is drizzled with olive oil and a dash of salt––letting the ingredients sing in their simplicity. The best mozzarella to use for this dish is fresh, just-spun buffalo mozzarella, not the low-moisture product sold overseas. Another element that does justice to this vegetarian dish is a drizzling of top quality extra virgin olive oil over the cheese and plump vine-ripened tomatoes and freshly torn basil leaves.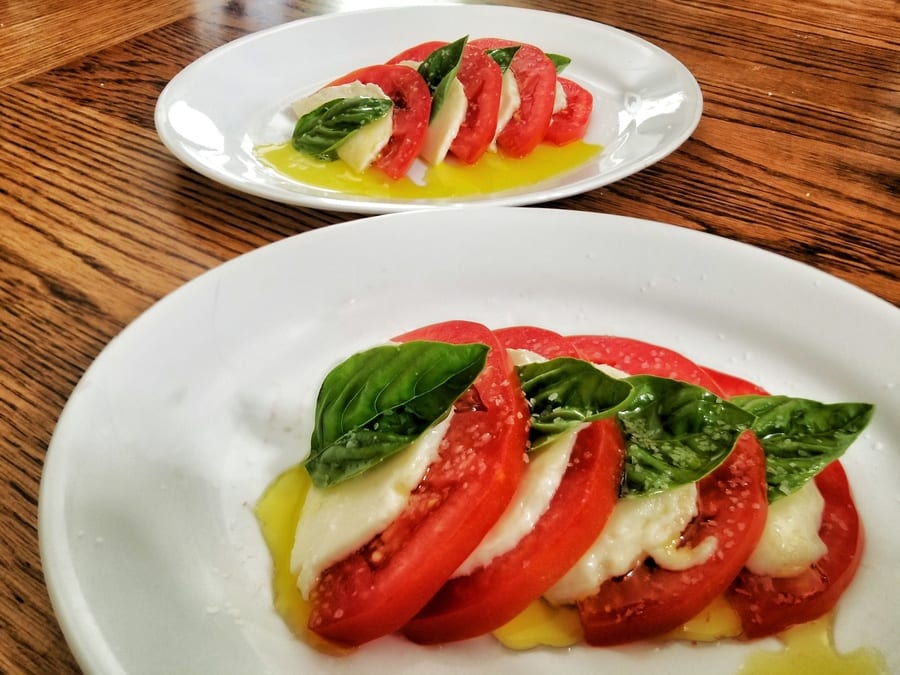 Mozzarella in carrozza
This appetizer brings the concept of grilled cheese to a whole new level. This is a typical recipe consisting of slices of crustless sandwich bread stuffed with fresh mozzarella, dipped in beaten eggs, flour and breadcrumbs and then fried in a pan. The coating seals in the mozzarella, and the frying makes it melt. Despite its name, which literally translates to "mozzarella in a carriage," mozzarella in carrozza cannot travel to picnics nor stand uneaten for more than a few minutes after frying, as it tends to become gummy.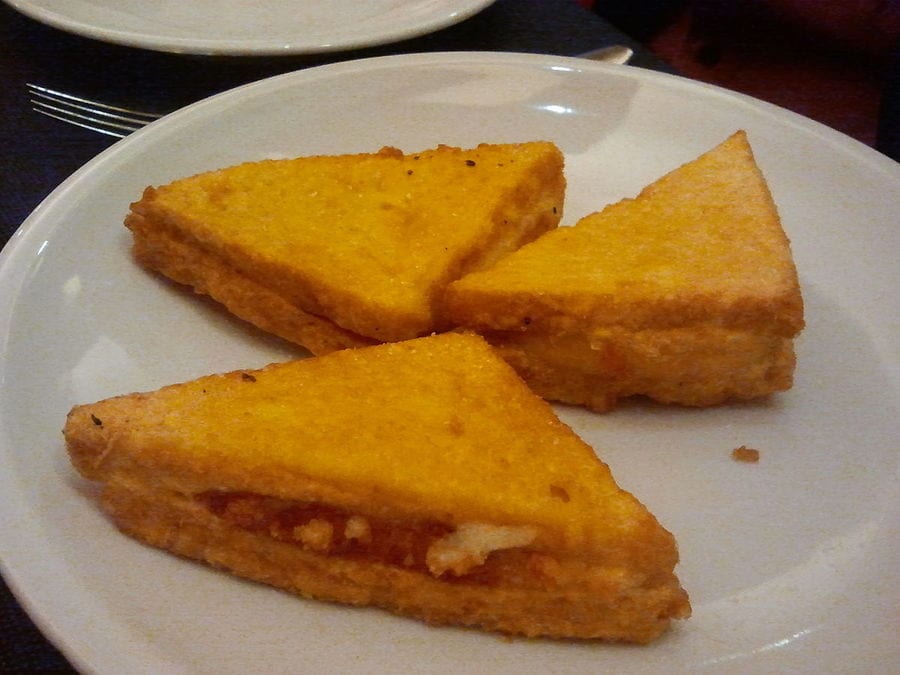 Maccu
This southern Italian dish is prepared with dried and crushed fava beans (also known as broad beans). Using puréed fava beans dates back to ancient Roman times, when legumes played a much bigger role in daily nutrition. Maccuis served as a soup on its own, but several dishes employ it as an ingredient, such asMaccu di San Giuseppe, which is added with other legumes and chestnuts and served on Italian Father's Day, during the festivity of Saint Joseph.
In Puglia fava bean purée––fave e cicoria––is eaten with boiled bitter dandelion greens and just a drizzle of olive oil. The bitter notes of the cicoriaare offset by the creamy texture and sweetness of the pureed beans.
Caponata
Caponata is a sweet and sour Sicilian dish that employs summer vegetables. Its origins are influenced purportedly by Arabic and Spanish cookery, and it consists of sautéed eggplant mixed with a hint of tomato sauce, celery, onions, olives, capers and pine nuts all slow-simmered in a piquant sour-sweet sauce. Caponata is now commonly enjoyed as an appetizer or a side dish, in the past it was a meal unto itself.
Bruschetta
Bruschetta––pronounced with a K––hails from Tuscany but can be found everywhere in Italy enjoyed as a simple starter. When a piece of toasted crusty bread is rubbed with garlic and drizzled with olive oil it is called fett'unta(oily slice), but bruschetta can also be topped with fresh chopped tomatoes and basil, or stewed cannellini beans, sautéed broccoli, and so on. Crostini, bruschetta's close cousin, adds cheese, like mozzarella or its smoked counterpart before passing briefly under the broiler.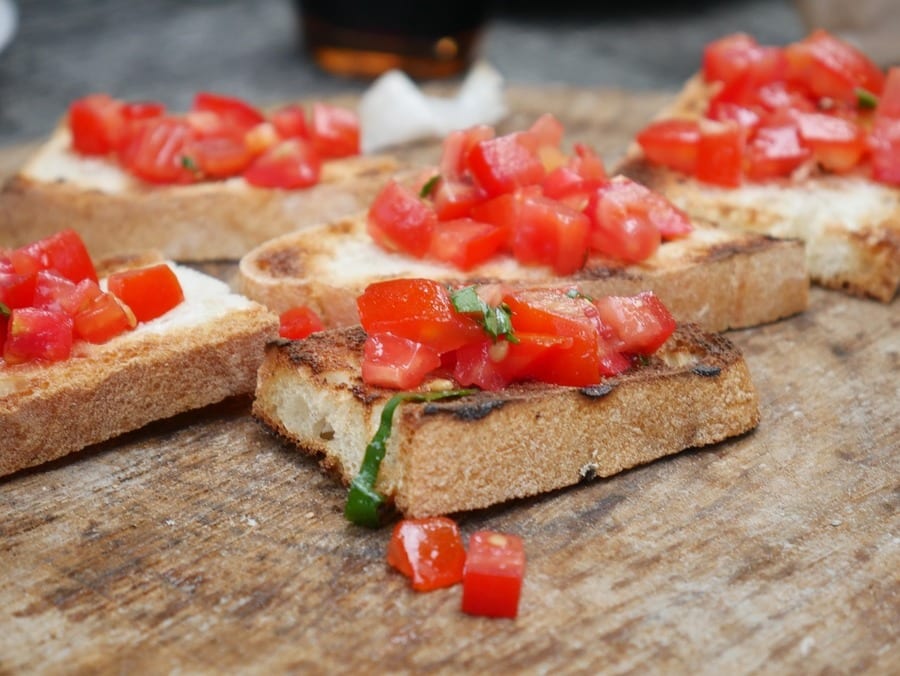 Orzotto
Everyone knows classic Italian risotto, but how about orzotto? If risois rice, orzois Italian for barley. Italians like to diversify their grain dishes by swapping the Arborio for some hearty pearl barley. Loaded with nutrients and fibre, barley is a grain usually found in wintry soups and summer salads, but it's a great substitute for rice in risotto. The barley for orzotto is prepared just like a classic rice in risotto: the grains are lightly toasted with sautéed leeks or blonde onion in butter, and then added with a splash of white wine followed by ladles of simmering broth. As it cooks, the barley releases its starch and gives the dish a nutty creaminess. After the barley is fully cooked any classic risotto ingredient can be folded into the creamy barley to flavour the orzotto. Think puree made from blanched asparagus stems, or roasted zucchini, or simmered artichokes… the possibilities are endless. For a vegan solution, swap the butter for olive oil, and skip the grated cheese ending.
by Eleonora Baldwin