There's always great interest in regards to pizza in Italy. Among the most innovative modern and gourmet pizzerias, there is increasing attention on a new genre called "farmhouse pizzerias". These include places that are inspired by agriculture, and that each own a vegetable garden and who self-produce the majority of the ingredients for the dough and toppings. The popularity of this growing trend is owed to great pizza masters such as Gabriele Bonci and Franco Pepe, and is now spreading among younger, rookie artisans. What follows is a list of addresses for the best farmhouse pizzerias in Italy, as recommended by the Guide.
Agriturismo Il Casaletto – Viterbo
After earning a diploma in hotel management, training in many restaurants in Tuscia and a fortuitous encounter with Marco Ceccobelli of Pizzeria Il Casaletto, 26 year-old Andrea Pechini is now considered among Italy's best pizza makers. He is the talented and proud pizza chef at the renowned Viterbo restraurant owned by Marco and wife Donatella. Pechini is a stone-milled flour and natural yeast connoisseur and he loves to experiment. His last creation is a whole grain local flour focaccia, but the pizza menu also includes classics such as Margherita and Marinara, plus other seasonal pies that change according to ingredient availability and the inspiration they provide the chef. The farm produces cereals, vegetables and cured meats. These can be tasted on rotation along with the plain focaccia. Fine wine and beer list, with local labels, Italian bubbly and French Champagne.
Agriturismo Il Casaletto | Viterbo | s.da Grottana, 9 | tel. 07 61367077 | www.ilcasaletto.it
Gigi Pipa – Este (Padua)
Young Alberto Morello has been consistently researching easily digestible producrs and topped exclusively with quality seasonal ingredients. In 2015 the Guide had already awarded him as new up-and-coming pizza chef, but his dough formula has since then improved significantly. At the core of his success are two long-leavened dough types – one made with natural starter and the other with a biga – that both proof for 72 hours, and both made with stone-milled flours. The natural starter dough is fluffy and full of air bubbles, and can be enjoyed both as a whole pie or in a pizza tasting menu. The dough made with the biga starter is light and crisp. Among Alberto's standouts are pizza Dell'orto, made with fresh homegrown garden greens and colourful toppingsi, the pizza Culatello DOP, is topped with the prized cured pork and fiordilatte cheese from Puglia. In the tasting menu options, do not forego the pizza with chopped raw beef, fiordilatte cheese, braised leek and mustard seeds.
Gigi Pipi | Este (PD) | v.le Rimembranza, 1 | tel. 331 4161253 | www.pizzeriagigipipa.it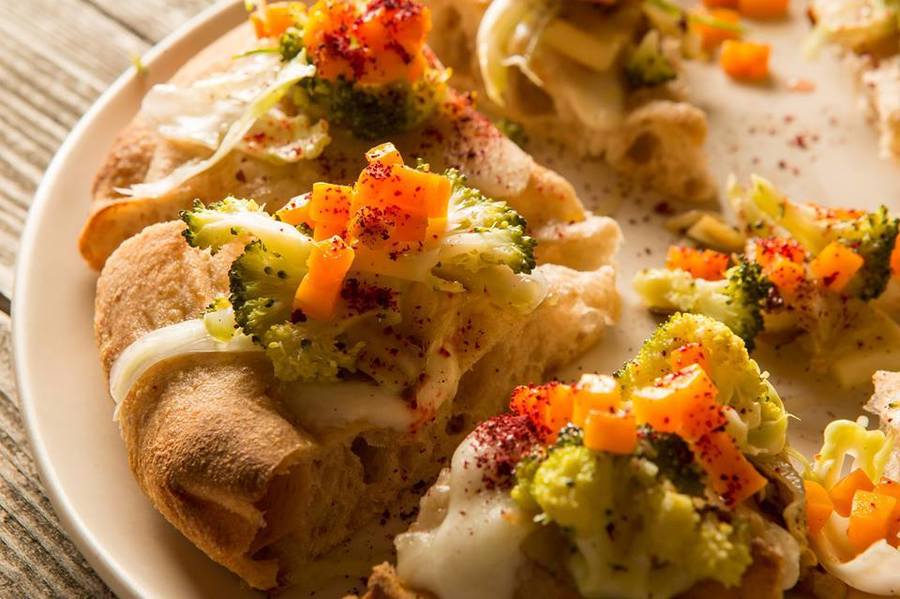 Grotto Pizzeria Castello – Caggiano (Salerno)
In the heart of the Medieval hamlet of Caggiano, the pizzeria owned by Angelo Rumolo boasts great location in a wing of the Normann Castle in the heart of the Parco Nazionale del Cilento e Vallo di Diano. His farmhouse pizzas are simple and delicious. Among the house specials is pizza Zammedda (which means "tomato skin" in the local dialect). The dough is obtained with a mix of ancient grains and topped with tomato, tomato skins and pecorino cheese. The seasonal pizza Cicorione is topped with fresh tomato, mozzarella, spicy salami and, as the name suggests, wild dandelion greens (cicoria). Extra virgin olive oil, cheese, cured meats and vegetables: the menu is entirely made up of local ingredients, most of which are homegrown.
Grotto Pizzeria Castello | Caggiano (SA) | via Roma, 26 | tel. 320 0229051 | www.facebook.com/GrottoPizzeriaCastello/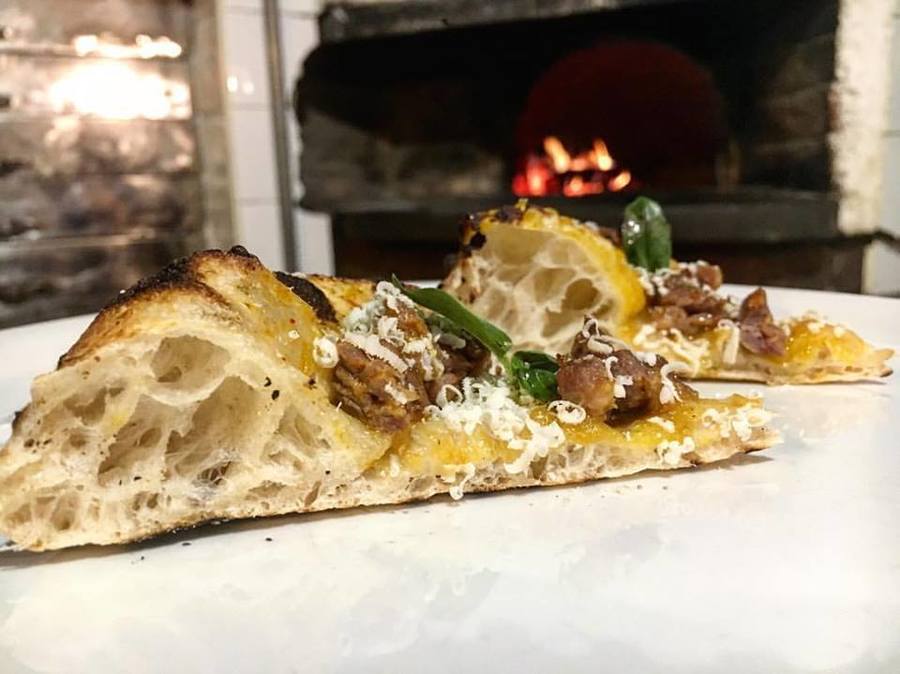 Pizzeria Agricola – Rosolina (Rovigo)
A pizza chef and a pastry chef, both lovers of fine dining and always on the lookout for the best possible ingredients. Introducing Giacomo Carlizza and Diletta Maria Grasso both boasting a fine pedigree, with training under names such as Bonci, Massari, Radicioni. A few years ago Giacomo e Diletta joined forces and in the rooms that once housed the family cafè Marangon – currently sponsoring the couple's project – they channelled their love for nature in a common goal. They carefully select all ingredients, personally choosing the best local breeders with ethics and sustainable practices in mind and growing their own produce. Their farmhouse pizzeria wears two hats: coffee bar in the morning, Il Gattaccio featuring Diletta's sweets and patries, and restaurant in the evening, with a menu that ranges from fish to meat, vegetarian dishes and pizza squares. The pizza tastings rotation always features: tomatoes and gems from the vegetable patch, cured meats and crostini, or Giacomo's 3-5 piece tasting menu.
Pizzeria Agricola | Rosolina (RO) | piazza San Giorgio, 15 | tel. 346 6104429 | www.facebook.com/PizzeriaAgricola/
Vola, Bontà per Tutti - Santo Stefano Belbo (Cuneo)
Among the suppliers are some of the most virtuous Piemonte products: flours, meats, tomatoes, beer, mozzarella di bufala made in Cuneo and many other local delights make up the pizzas of Stefano Vola, pizza artisan awarded with the up-and-coming pizza chef prize. The biggest supplier is however his vegetable garden, where Stefno grows the ingredients for his toppings. His dough variations include an Enkir one which is satiny and light, or a hazelnut-based dough. Topping the pies are sausages, mozzarella, sautéed vegetables, local cured meats and cheese. The menu changes constantly according to the cycles of nature and the seasons, and mostly, Stefano's inspiration.
Vola, Bontà per Tutti | Santo Stefano Belbo (CN) | tel. 01 41840626 | www.facebook.com/Bontapertutti/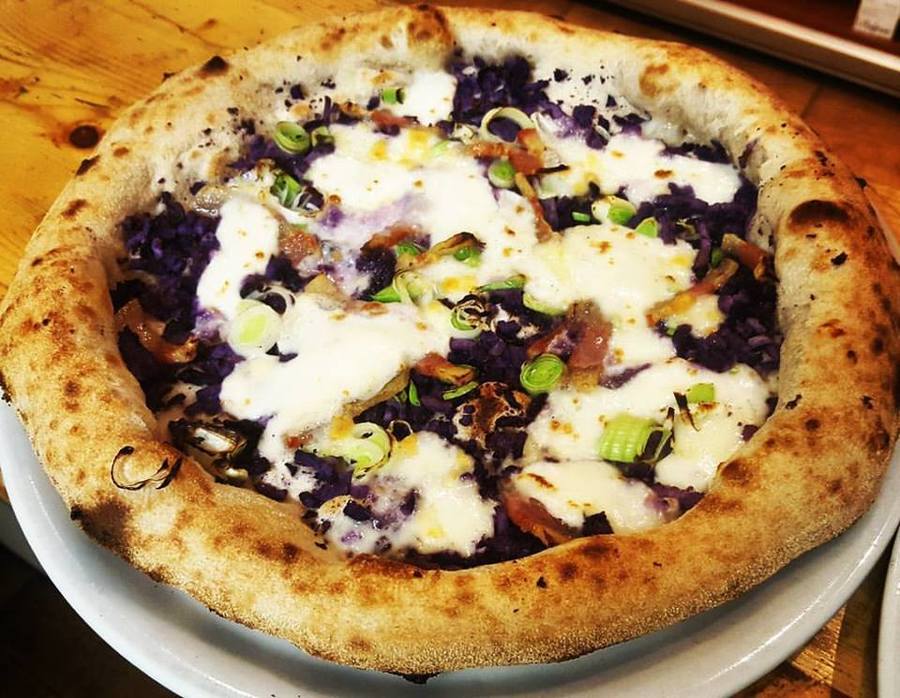 by Michela Becchi
translated by Eleonora Baldwin
Pizzerie d'Italia del Gambero Rosso 2018 | 384 pages | euro 8,90 | The guide can be purchased in newsstands, bookstores and online